Todd Kelly on standby for Supercars test laps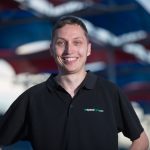 Todd Kelly may return to the track today during the Supercars pre-season test to help Kelly Racing understand several upgrades to its Nissan Altimas.
The Kelly Racing team co-owner has not driven an Altima race car on track since he elected to retire from racing at the end of 2017.
However, Kelly is poised to log laps if there is time toward the end of the Phillip Island test to assess a number of changes made to the Altimas during the off-season.
The Nissan Altima has undergone an aero tweak during Supercars VCAT homologation testing which has seen alterations made to the rear wing gurney and front splitter.
Meanwhile, the team has continued its development of the Altima package with upgrades made to the engine.   
In addition to those changes, the category has introduced a new Xtrac transaxle, new ECU and has banned the use of twin spring dampers.
"There are so many new things, the workload coming into the season has been a lot higher with different engine specs, aero and gearboxes," Kelly told Speedcafe.com.
"There are a lot of difference to last year's car and it is taking a little bit to understand it and get the car to a good balance.
"Hopefully we will be able to understand it at the end of the day."
Kelly has secured temporary licence for today but will only step in the car if the day's test programs go to plan.
"We will see how far the guys get through their programs and if there is time I'd like to jump and see where we have got to with the car," he added.
"Over the years I have been involved heavily in the reasreach and development and the running of the team.
"Everything that we have done (with the car) I have always been able to feel it in the cockpit and it gives me a bit of understanding and renews the focus and enthusiasm.
"It would be good to see where we are at." 
All four Altimas are in action at the test with Rick Kelly, Andre Heimgartner, Simona De Silvestro and new signing Garry Jacobson at the wheel.
Heimgartner's car is running a Kelly Racing livery as it continues to lock down a naming rights sponsor on the #7 Altima.