Plenty of work for T8 after challenging test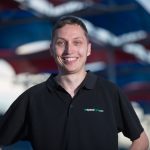 Triple Eight has conceded that it has plenty of work to do to understand the effects of moving to linear spring suspension after a challenging pre-season test at Phillip Island.
Supercars' move to ban twin springs in favour of the less complicated and expensive linear suspension system was a hot topic at the Victorian circuit as teams adjusted to the technical change. 
Shane van Gisbergen and Jamie Whincup ended the day in 14th and 19th respectively while the new Ford Mustang filled the top three positions with Tickford Racing's Cam Waters on top.
Triple Eight has developed and heavily relied upon the twin spring set-up particularly in the rear of the cars over the last 10 years, further emphasising the importance of the switch to linear springs.
Team manager Mark Dutton admitted that after today's showing the team has plenty of work to do in that department after labelling the area as the key reason for the lack of pace.
"The cars ran faultlessly, new ECU package was good," Dutton told Speedcafe.com. 
"We've been working quite hard in the team on some development items, they all worked really well, so there are lots of positives to come out of the day, but we still need to get on top of the linear spring and the bump stop rule changes. 
"For sure, (there is) more work to be done. We definitely knew there would be a lot to do. 
"We would have hoped that some of our changes would have made a bigger effect to some of the handling issues, but in some of the issues they didn't, but we need to work out the new tools. 
"We also need to work out which ones to focus on because it's a very different track to where we're about to go, so we need to make sure we focus on what we need for Adelaide, not get too caught up with what did or didn't work here that doesn't apply for Adelaide.
"You always need to try and understand, so we've got to try and understand why we couldn't make the cars quicker here. 
"We didn't spend the whole day trying to make a Phillip Island set-up, for sure, we spent most of the day trying to learn the sensitivities of the car so you know your toolbox for every other track, but that said, we tried to go quicker than we (actually) did, so we need to do better."
Dutton is refusing to panic, reiterating that the team has won and been successful using linear springs before.
"No panic stations but definitely we're disappointed with the pace today; we don't need to make any secrets about that," said Dutton.
"As you said, no panic stations but would have liked to have been quicker, we wanted to be quicker, we worked hard but we know (Adelaide)'s a very different circuit that we're confident we can be on top of.
"We've been running solely twins and more in the rear for probably 10 years. We used to run linears, we used to win races with linears, so it's not like we can't do it, 
"But we've got to… not dust out the old set-ups, at all, it's just understanding what we need, and that's from some really good testing that we did today so we've got to pore through the data."
However, the team did complete the test without any major issues on the ZB Commodores which was one positive. 
The new control ECU also ran smoother than its run at a shakedown last week in Whincup's car.
"There are a few little refinements that we're getting done throughout the day but nothing like QR," he added.
"(At) QR, it was a fair way off what we had today, so good on MoTeC, Supercars and Craig Hasted (championship engine consultant) for burning the midnight oil to get it as far as they did in such a short amount of time, and good on our lads on Triple Eight as well, we spent a lot of time at the shakedown working with Supercars."