McLaughlin: You really have to drive the cars now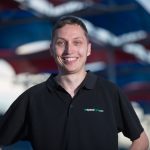 Scott McLaughlin feels the move to linear spring dampers will prove the biggest change this season, even moreso than adapting to his new Ford Mustang.
The pre-season test at Phillip Island saw the field run without the complex twin spring dampers which have been banned in order to simplify the category, and reduce labour and cost.
A move to linear springs has created a much more different feel in the cars with teams working furiously to adapt to the change in handling.
Speaking after the test, Shell V-Power Racing's McLaughlin admitted that striking a compromise with the set-up stability is throwing more onus on the drivers to drive the car.
It is however a change that the reigning champion is excited to embrace.
"It's kind of different now with the linear, so I fully believe that's probably going to be the biggest change out of everything, even for us," McLaughlin told Speedcafe.com.
"The linear spring took more to get used to than the actual aero map.
"The linear springs and stuff I think is going to be a very cool and interesting change, which is exciting, so (we are) getting our heads around that. 
"I think we've found a reasonable balance but you've got to try and, as a driver, work out what you want to give off, so you can have really good turn but you have really bad rear.
"You've got to find a happy medium to go, 'I'll give you a little bit of turn but I'm probably going to have to cop a little bit of slide,' which is quite cool because you've got to drive the thing now, where you would get rescued with the twins, so it's very cool."
McLaughlin ended the day eighth fastest, 0.3s adrift of Cam Waters as Mustangs filled four of the top five spots.
Team-mate Fabian Coulthard was among those as he ended the session in second position.
McLaughlin revealed that he spent the majority of the day working on race runs rather outright lap times. 
"It was a really solid day for everyone, I think we got a really good bunch of data," added the 25-year-old.
"We didn't run greens (tyres) or anything, we basically just went out there and it was more like working out race cambers, working out how long the tyres go for, and we just went off a program.
"No points today but I think it will pay dividends later in the year, what we learn.
"I sprayed my lap towards the end there with a bedded set of tyres but nothing crazy. I'm stoked for more so the people at Ford Performance and stuff (who helped develop the Mustang), that they've had a strong day. 
"It looks like there haven't been too many issues, so it bodes well but look, you don't know what everybody else is doing as well."