Tickford launches Holdsworth's 2019 challenger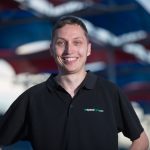 Tickford Racing has lifted the lid on the Ford Mustang for its new signing Lee Holdsworth.
As expected, the #5 entry will continue its partnership with The Bottle-O which has seen the famous lime green and white colours replicated on the new Mustang.
Holdsworth joins the Ford squad this season as a replacement for long serving driver Mark Winterbottom, who ironically has switched to the Team 18 seat which the former previously occupied.   
After a difficult 2018 campaign, the 36-year-old is hoping the combination of a new team and car will yield stronger results this season.
Holdsworth will steer the car for the first time in tomorrow's pre-season test at Phillip Island.
"I'm pumped to get back behind the wheel and to turn my first laps in The Bottle-O Mustang," said Holdsworth.
"As a driver you're always aching to get back in the car, and with the Mustang being introduced this season I'm really excited to have the chance to race one.
"The car looks great. You won't be able to miss it on track and you won't be able to miss me in my The Bottle-O green race suit.
"The goal is to have the car up the front so the fans see a lot more of it.
"That work really starts tomorrow with the test. It's our only full day of track time before Adelaide so it's a very important day, I'm looking forward to getting into it."
Holdsworth's car reveal follows that of team-mates Cameron Waters and Chaz Mostert, while the Tickford-run Milwaukee Racing entry will be revealed tomorrow morning.
All four cars will hit the track tomorrow for Supercars' official pre-season test.