Ricciardo convinced Renault move will pay off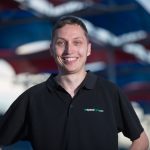 Daniel Ricciardo is convinced his move to Renault will eventually pay off with a championship push in the future while rubbishing suggestions the switch is a 'money move'.
The Australian made a shock decision to leave Red Bull for the French manufacturer last year which on paper seemed a backwards step given Renault is yet to claim a podium since returning as a factory team in 2016.
During his time at Red Bull, Ricciardo has enjoyed success scored 29 podiums finishes including seven wins.
While admitting it is unlikely he will challenge for silverware this season, he fully expects the move, which he has labelled as the biggest decision of his career, will prove to be successful. 
"Honestly in the short term I can't see anyone beating Mercedes, maybe Ferrari, in this season coming," said Ricciardo. 
"I don't think I'm necessarily sacrificing any victories. For sure looking at 2018 it was a bit of a different story having a couple with Red Bull. 
"I definitely had to take more of a medium term approach. 
"I want to win yesterday but I definitely feel that this is something that is a more thought out process that will give me wins down the track. It might not come tomorrow and I'm aware of that, but I don't think it is taking as much of a back step as it might seem on paper."
Ricciardo was on hand to unveil the new Renault R.S 19 at the squad's Enstone base in the UK overnight.
Having now had the opportunity to see the team's resources, Ricciardo is adamant the operation has all the ingredients to mount a serious title challenge from as soon as next year.
He believes there are no limitations with regard to the resources available compared to his previous employers at Red Bull.
Renault has previously won world championships as a factory F1 team after guiding Fernando Alonso to back-to-back crowns in 2005 and 2006.
"I do (believe Renault has the resources to challenge in the near future)," added Ricciardo when asked by Speedcafe.com 
"The near future is not realistically as soon as this year but certainly the plan is to lay more of a foundation for that this year and see how much we achieve in the next 12 months, but hopefully as soon as next year we can start properly fighting. 
"As far as facilities, resources and investment, they are still putting in and expanding at Enstone and in Viry (France).
"That I want to say is very encouraging and good to see. 
"Obviously I saw everything down at Red Bull in terms of facilities and infrastructure they have got a pretty good set-up here. I don't think there are many limitations here."
Ricciardo is set to drive his new 2019 challenger for the first time and begin a new chapter of his career at Renault when pre-season testing begins at Barcelona next week.