Supercars looks to global series for future direction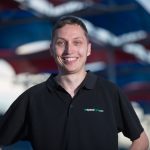 Supercars is consulting with global touring car series as it edges closer to securing the future direction of its Next Generation cars, according to championship boss Sean Seamer.
The series has been working behind the scenes on its look and feel beyond Gen2, with its next set of regulations expected to arrive in 2021.
It is well documented that Supercars has been working through options for its next wave of machinery with those studies including hybrid technology.
Last week Seamer revealed that the category is looking to set up a manufacturer council to share ideas with marques on the future direction of the series.
He has also confirmed that Supercars is looking closely at templates used by the likes of DTM, NASCAR and the British Touring Car Championship. 
Last year Supercars Commission and Board member Brad Jones visited the final round of DTM series.
"We're going through a process of what the future looks like for us, and from that there is a range of different projects that we're going through from the events to the car," said Seamer.
"We will unveil some of that work at the (season) launch.
"Within that is a project around what the next car looks like and what, if any, changes need to be made to accommodate that.
"We're just trying to get an understanding of what the other series are doing around the world, how they're engaging with manufacturers, will they see the future of their series go on, what impact that's having on fans, how they're looking at fan growth strategies and sharing a bit of information.
"If we can contribute and they can contribute then great.
"We're listening to what everybody's doing and sometimes it's easier to just steal an idea than to try and create a new one.
"If someone else has gone through all that work and they've arrived at the best solution you think can work for you, then why rethink the whole process? And re-engineer the whole process."
The current Supercars chassis has been somewhat restrictive as seen by the new Ford Mustang which has had to be altered to fit.
It is understood that this has been a factor in studies to assess the feasibility of a Camaro joining the championship.
Seamer stresses that finding a chassis that enables as many marques to compete is vital for the future.
"The key thing about the chassis is it's not about roll hoop height, it's about what's the right chassis to enable us to have as many different marques out there as possible," added Seamer.
"That's the starting point.
"What do we want the grid at Bathurst to look like in 2021? And what do we need to do to get there?
"So we're working backwards from that."