DJRTP realistic on Adelaide Mustang expectations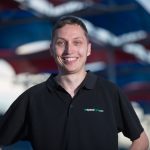 Shell V-Power Racing is keeping its expectations for the Ford Mustang's racing debut in check ahead of the highly anticipated Superloop Adelaide 500.
Now the team's Mustangs for Scott McLaughlin and Fabian Coulthard have been unveiled during a launch in Melbourne, the focus has switched to how the cars will perform on track.
This week will see the Mustang conduct its first competitive outing in Thursday's pre-season test at Phillip Island.
New cars have often performed well straight out of the box as seen by the ZB Commodore last year and Ford teams will be hoping for a similar showing from the Mustang.
However, Shell V-Power Racing managing director Ryan Story is not setting any lofty ambitions for the opening the round on the Adelaide streets from February 28- March 3.   
"I think we have to be realistic in terms of managing our expectations," said Story.
"It's a new car, it's obviously a two-door shape, from a four-door, so it's going to be a challenge for us to get our head around the aero and what it takes to get the car to work and what we have to do with our set-ups to make sure we're in the window.
"We have realistic expectations heading into Adelaide. 
"It's going to take a bit of time for us to understand the car and get the most out of it, but our expectations are no different to last year, we are going out to win races. 
"We know that we're up against some pretty strong and pretty extraordinary competition, but we have to continue to work hard and raise the bar and continue to find success. 
"That's what it's all about for us.
"I'd certainly never rule it (a win) out, but I think we have to be realistic in terms of where we are and what we're up against.
"We're not setting lofty ambitions out of the box for ourselves, but certainly on balance for the year we hope to be winning and be successful."
Defending series champion McLaughlin remains optimistic but admits Thursday's test will offer an indication as to where the Mustang stacks up against the rest of the pack.  
"I'm going there wanting to win and I don't think it's unrealistic," said McLaughlin.
"But we go there trying to make the best of the situation we have. 
"If we come out of Phillip Island and we feel comfortable and it feels similar, I'll go to Adelaide with confidence that we could have a good shot. 
"We've been fast over the years. We won't know officially until Thursday."
Story says his team has been putting in the hours to ensure both its cars and an inventory of spares are ready for this week's pre-season test at Phillip Island. 
"We've been burning the candle at both ends, the guys at Stapylton have been working really hard and all credit to them, they've done an extraordinary job turning out our two cars that'll test on Thursday."