Coulthard hoping Mustang will better suit his style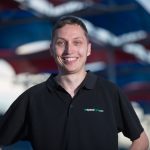 Fabian Coulthard is hopeful the new Ford Mustang package will better suit his style as he looks to bounce back from a challenging 2018 campaign.
The New Zealander admits his championship was derailed early last year which led to him becoming a wingman for team-mate Scott McLaughlin for the majority of the season.
Coulthard was largely outshone by McLaughlin after scoring a solitary win at Winton, compared to the latter's nine on the way to the title, while the former finished ninth in the standings. 
The 36-year-old has admitted a low downforce set-up direction taken by the team didn't suit his style last year.
He believes improvements in that department with the new Mustang, that features a noticeably larger rear wing, will prove beneficial in what could be a pivotal year, believed to be the final of his current deal.
"I feel like we need a little bit more downforce and some straight line speed," said Coulthard, when asked what he needed to tune up his results.
"We had to run such low downforce to keep up on the straights which is the thing that probably hurt me the most last year. 
"Scott can get away with it, it suits his style, it didn't really suit my style so hopefully this car and this package will be a step in the right direction.
"I don't think that last season was a complete waste. 
"Our championship got derailed slightly earlier in the year and our focus changed to helping Scott. We got there in the end. 
"The team wanted a drivers' championship to repay all the faith with Roger (Penske) and Dick (Johnson) but this year we start off with a clean slate and start again. 
"We start on zero points and we will see how it tracks and progresses form there. 
"The last part of the year we were as good as Scott and on the same sort of pace and come this year we should be looking ok." 
Shell V-Power Racing managing director Ryan Story agrees that the Mustang will better suit his driver and expects an improvement in form.
"There's no question that there's some traits to this car that will be more in keeping with his driving style and what he needs out of the car," said Story.
"It was a very challenging year for him last year and some of the things we had to do to the set-up to make the car go fast didn't necessarily suit his style and the results reflected that.
"He had a little bit of bad luck on his side too and he played the team game towards the end of the season, so we certainly expect him to have a step up in form as a consequence of drafting in this new car and we back him to the hilt.
While there is plenty of speculation regarding Coulthard's future at the team beyond 2019, Story refused to be drawn on the matter.
"It's too early to talk about those sorts of things, but for us right now we're just thinking about getting to the test day, getting to Adelaide and finding our feet with the new car," added Story.
Coulthard took part in the Mustang's development prior to homologation but Thursday's pre-season test at Phillip Island will be his first experience of the final product.
He did however attend McLaughlin's Mustang shakedown as an avid onlooker at Queensland Raceway last week.