New look for Tekno Autosports Holden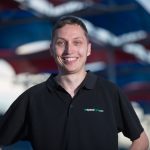 Tekno Autosports has revealed the livery that Jack Le Brocq will run during the 2019 Virgin Australia Supercars Championship.
Last season's striking orange and black colours remain with the #19 Holden Commodore once again backed by Truck Assist alongside branding from new partners Isuzu Trucks.
Le Brocq emerged as the top rookie last season after finishing 19th in the standings helped by five top 10 finishes.
"It's great to have Truck Assist back on board with Tekno for 2019, the car itself looks awesome, the orange on black stands out from the pack, it should be an easy one to spot on the circuit," said Le Brocq.
"Personally, it's exciting to welcome new brands on board, and I can't wait to start working with the team from Isuzu.
"Obviously we get the chance to go testing this week – anytime you get to cut laps around Phillip Island is awesome, then it will be all eyes forward to Adelaide.
"I learned a lot throughout my first full year in 2018, now it's about taking advantage of it."
This season will see team owner Jonathon Webb take on a team manager role following the departure of Adrian Burgess and engineer Campbell Little to Supercars technical department.
Le Brocq will hit the track on Thursday in the pre-season test at Phillip Island.