Erebus Motorsport shows off 2019 warpaint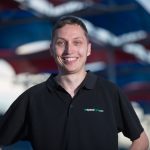 Erebus Motorsport has uncovered its Penrite Racing Holden Commodores that will contest the 2019 Virgin Australia Supercars Championship.
The Melbourne squad revealed its new look entries for David Reynolds and Anton De Pasquale during a launch event at Federation Square.
As previously reported, Erebus will run under the banner of Penrite Racing after striking a deal with the oil giant which will back both its cars this season with identical liveries.
"It's great to reveal the 2019 Penrite Racing car livery in one of Melbourne's most iconic spots," said Reynolds, who finished fifth in the standings last year.
"It's something a bit different and gives us an opportunity to bring the cars to the fans."
Reynolds' young gun team-mate De Pasquale, who impressed many duding his rookie season last year, is a fan of the new look cars. 
"The cars look fast, it's a credit to the entire team to represent Penrite Oil across both cars this season and race under their flag," said De Pasquale.
"It's nice to see some of last year's features also carry into the new year, like the extra red and chrome trim, but this time with a twist."
Erebus will showcase its cars on track for the first time next Thursday at Supercars' pre-season test at Phillip Island.
CLICK HERE for gallery.
CLICK HERE for video.