Team CoolDrive showcases Jones Commodore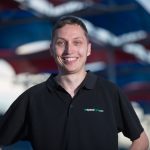 Team CoolDrive has showcased the Holden Commodore that rookie Macauley Jones will drive in the 2019 Virgin Australia Supercars Championship.
The outfit has chosen to reveal the car with the release of a lighthearted video depicting the changing of the guard as former driver Tim Blanchard hands the car over to Jones.
Jones, the son of legendary racer and team owner Brad Jones, has taken over the #21 seat this year following Blanchard's decision to retire from full-time racing and take up a team manager role.
The Brad Jones Racing run car features an updated blue and white livery courtesy of naming rights sponsor CoolDrive Auto Parts. 
"I had a lot of fun filming the Team CoolDrive reveal for 2019," said Jones. who steps up to the main game after almost five seasons in Super2.
"The CoolDrive crew has a fun approach to getting the job done so we wanted to approach our launch video the same way."
"Our team is quite a young crew and we get along really well. 
"Having worked alongside these guys in the workshop for the last few years now, we all know what to expect of each other and there are no grand expectations – just give it your best shot.
"We are excited to get the season underway, there will no doubt be a few challenges and a lot of work ahead of us. We are as prepared as we can be and looking forward to seeing what the 2019 season has in store for us."
Team manager Tim Blanchard added: "I know how important and exciting this moment is for Macauley stepping up into a full-time drive, and he is under no false impression that the road ahead is going to be challenging and tough. It's a huge step up from the Super2 series."
"Continuing to run Tim Blanchard Racing in the Brad Jones Racing stable means that Macauley will be around the close-knit crew he already knows the inner workings of. That will play a great part in how he gets the year underway, he can essentially continue on with the great job he's been doing."
"We've kept the Team CoolDrive livery similar to last year, the shiny PPG Borocay Blue which we continue to get great feedback on. The CoolDrive brand is growing and people are recognising us more and more, so continuity is key."
Earlier this week Jones was set to complete the first of his three available rookie days, but rain forced the team to abandon the day with no test laps completed.
The team has rescheduled the rookie test day for February 20.
Jones' first on track session for the year will be at the official Supercars Test Day at Phillip Island, next Thursday.

VIDEO Team Cooldrive 2019 season launch