Mostert set for Laguna Seca BMW GT outing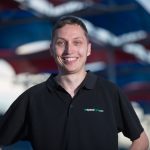 Chaz Mostert is expected to rejoin BMW for the second round of the Intercontinental GT Challenge at Laguna Seca next month.
The Tickford Racing Supercars ace has continued to impress German marque after helping Team Schnitzer to fifth in last weekend's Liqui-Moly Bathurst 12 Hour alongside Augusto Farfus and Martin Tomcyzk. 
Mostert is now set to rejoin the squad for the Laguna Seca Raceway California 8 Hours (March 28-30) for what will be his third GT race in the US.
Last month he joined BMW's Rahal Letterman Lanigan Racing team for the Daytona 24 Hours where he raced with Alex Zanardi. 
He also represented the team at the Petit Le Mans at Road Atlanta last October.   
"As far as I know, just Laguna, and that's the end of my year, pretty much, with BMW; unless something pops up at Macau," said Mostert.
"That's the only other option I might have. But it'd be awesome to get to Laguna, I've never been there before, it looks like a wicked racetrack. 
"We'll see how we go, obviously got fifth (at Bathurst), so for the series, for the guys, that's good points, and obviously they just wanted to have a clean run through the racing and see how they go, so I'm looking forward to going to Laguna.
"Martin and Augusto, they've been absolute legends at Bathurst, they'll be able to hopefully teach me the ropes at Laguna, and I'm always excited to race with the Schnitzer team, these guys are really, really professional."
Mostert's efforts have not gone unnoticed at BMW with top motorsport boss Jens Marquardt hugely impressed by the 26-year-old Australian.
"He (Chaz) has a schedule down here (in Australia) that we have to respect," said Marquardt.
"But wherever we have a possibility to have Chaz in the car, we will try and do so.
"There are Asian races, we look at America, he was at Petit Le Mans last year as well.
"He is just really a pleasure to work with and he is super quick."
Fellow Supercars driver Jamie Whincup was set to race at Laguna Seca last year for Kenny Habul's SunEnergy1 Racing before the entry was withdrawn.