Freak storm wreaks havoc at Valvoline Raceway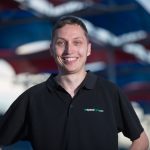 A freak storm has caused substantial damage to Sydney Speedway venue Valvoline Raceway.
Torrential rain coupled by strong winds lashed the circuit on Friday night wreaking havoc as the storm swept through the facility.
According to the venue's Facebook page, many of the corporate boxes have been blown from their location while heavy rain has left the pit area underwater.
The venue was due to host a race meeting tomorrow night which is now under threat due to the storm damage.
"This is just beyond belief," a Speedway spokesperson said. 
"It's honestly like a mini-hurricane or something has ripped through the place.
"Cars in the street are under water, the infield and the pits is under water and the damage to the Corporate Boxes is something you never imagine happening. We'll have to look tomorrow morning at whether we can go racing or not. Nobody expected this."
Fans and team are urged to stay tuned to the circuit's social media channels for updates.