New ECU, car gremlins for Whincup at QR shakedown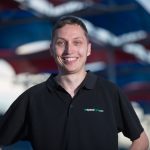 Jamie Whincup believes there are several items that need to be addressed on his new car and with Supercars' latest ECU system following a shakedown at Queensland Raceway.
The seven-time Supercars champion endured a lengthy shakedown as he debuted his brand new chassis while testing a new control ECU which is set to be used by the series at next week's Phillip Island test.
It proved to be a long day for the team as rain delayed the start of the test, with the permitted 60km run only completed as the session closed at 1700 local time.
Triple Eight was asked to test the new ECU on behalf of Supercars to iron out any issues prior to next week's pre-season test.
Whincup was relatively happy with the feel of his new car but admitted there were gremlins with both the chassis and the ECU component that require fixing before pre-season testing begins.
"It's good to have a new car and be back in a Supercar for the first time this year," Whincup told Speedcafe.com.
"It feels good but there are plenty of gremlins though; there are five or six things we need to fix before Phillip Island but that is fairly normal with a brand new car, there are no parts form any other car in this. 
"We are also helping out Supercars with a new ECU and that is causing some of the issues as well. 
"There is a new ECU that will be used on all cars at Phillip Island so we are just trying to make sure it is ok before we all use it. 
"There are a few new car gremlins and ECU gremlins. 
"I'd be lying if I said everything is perfect. We are tuning and this is what the shakedown is all about. 
"This is why we have the 60km otherwise we would be doing all this at Phillip Island and it is great to be able to iron all that out before we go testing.
"There have been a few test components (on the car) which is nice as we try to move forward. This time last year we were just trying to get cars on track and now we can develop and move forward."
Whincup also spent time behind the wheel of Triple Eight's Super2 Holdens to assist regular drivers Kurt Kostecki and Brenton Grove during their first test. 
The trio shared the track with Shell V-Power Racing's Scott McLaughlin, who completed a shakedown of his new Ford Mustang Supercar, while also testing new brake pads on behalf of the championship.
Whincup will be back behind the wheel at the pre-season test next Thursday.