Ingall 'blown away' by fan support after Fox Sports axing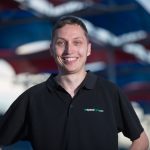 Russell Ingall says he is blown away by the support he has received from fans following the news that he has been dropped from the Fox Sports Supercars broadcast team.
Speedcafe.com broke the news that Ingall will no longer be part of Fox Sport's Supercars coverage, which has sparked a torrent of messages in support of the 2005 Supercars champion on social media.
One fan has even created a petition through website change.org, attracting more than 3000 signatures in the hope it will see Ingall reinstated as part of the broadcast team.
Since speaking to this website, Ingall has responded to the messages with a post of his own through his Facebook page.
"Just wanted to thank everyone for the overwhelming support the last 24 hours," read the post on Ingall's Facebook page.
"The positive messages and calls from the thousands of fans & the few people within the sport has blown me away.
"One fan even started a petition to get me back on Fox. Unfortunately I don't think it's going to make a difference, but really genuinely appreciate the effort.
"The thing that means more to me, even above the job I was doing, is the acknowledgment that I have actually had an impact on the sport and entertained and informed the people that follow it.
"After all, what I've always said and tried to achieve is giving the fans what they want. If all else fails, I'm sure there will be other forums where I can give my views and opinions on Motorsport. Thanks everyone."
Speedcafe.com has contacted Fox Sports, who have declined to comment on the decision to drop Ingall.
Fox Sports will freshen up its line up this year with Craig Lowndes joining the team in a yet to be specified role alongside host Jessica Yates, commentator and pundit Mark Skaife, Neil Crompton, and pit reporters Mark Larkham, Greg Murphy and Riana Crehan.