Seton makes final four at BMW Junior Shootout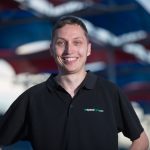 Aaron Seton has progressed to the final stages of BMW Motorsport's Junior Shootout program in Germany.
The son of Australian touring car legend Glenn Seton was among 20 candidates from across the world selected to participate in the program, which offers the winner a factory BMW drive in the Italian GT Championship.
After undergoing a series of mental and physical tests this week, the Gold Coast-based driver has earned one of four spots to contest the final exam behind the wheel of BMW Motorsport's simulator.
Seton will be joined by Ben Tuck, Erik Johansson and Benjamin Lessennes for the exam later today.
"Words can't describe how excited and honoured I feel to make it through to the final 4 for the 2019 BMW Motorsport Junior Selection! Bring on the simulator day today," read a post on Seton's Facebook page.
Seton earned the call-up after impressing during last year's Liqui-Moly Bathurst 12 Hour where he claimed victory in Class C alongside Matthew Brabham and Tony Longhurst.