Off-road reveal for Slade Freightliner Commodore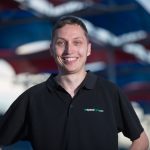 Brad Jones Racing has unveiled its 2019 Freightliner Racing entry for Tim Slade in spectacular fashion.
The Albury team has chosen to reveal its #14 Holden through a special launch video (see below) which sees Slade take his updated yellow and black ZB Commodore Supercar off-road.
Filmed on a private property just outside of Albury, the team went with a 'barn find' inspired release.
The video features Slade and his truck driver on a remote farm uncovering his 2019 Freightliner Racing/Alliance Truck Parts Supercar in a barn. After pulling the covers off the two-time race winner decides to let loose in the open paddocks.
"We had fantastic feedback on our launch video last year and it definitely stood out from the rest. We knew we needed to deliver something like this again for Freightliner/Alliance Truck Parts and our fans and we think this one might just be bigger and better," said team boss Brad Jones.
"More of the Freightliner Coronado, more of the Supercar and a mountain of dirt! It's very cool for our team to showcase our partners like this, the buzz it creates is pretty awesome.
"Tim was quite close to standing on the podium a couple of times last year, and there's no doubt we'd like to get him back up there again in 2019.
"We've learned a lot of lessons over the last year with the ZB Commodore and are looking to improve on the consistency and deliver some good results."
Slade, who finished 11th in the standings last year, will jump behind the wheel of the car in next week's pre-season test at Phillip Island on February 14.
VIDEO: Freightliner Racing 2019 season launch