Ingall dropped from Fox Sports TV line-up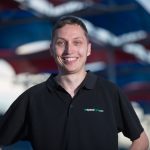 Russell Ingall has been dropped from Fox Sports' Supercars broadcast team in a shock move before the start of the 2019 season.
The two-time Supercheap Auto Bathurst 1000 winner and 2005 series champion has occupied a pundit role as part of Fox Sports' Supercars coverage since the broadcaster took over the rights to show the championship in 2015.
However, Ingall was told over the Christmas holidays that his services are longer required for the upcoming 2019 campaign, a decision that has 'blindsided' the former full-time Supercars ace.
Fox Sports will freshen up its line up this year with Craig Lowndes joining the team in a yet to be specified role alongside host Jessica Yates, commentator and pundit Mark Skaife, Neil Crompton and pit reporters Mark Larkham, Greg Murphy and Riana Crehan.
Ingall's insights into the sport coupled with the dynamic with former bitter on track rival Skaife had proved an unlikely hit among fans during the last four seasons, where ratings have steadily risen since the move from free-to-air television.
"We thought it was a really good balance, so I was sort of a bit blindsided, and it was pretty late in the day that I was told. " Ingall told Speedcafe.com.
"It's a bit of a shame because I passed up other opportunities late last year because I was planning on doing the same thing.
"Fox saw the highest ratings in the sport in 2018 since taking over the rights to televise Supercars so all the indications were everyone was more than happy with the format.
"There was very positive feedback from race fans, especially the dynamics between the three of us on the desk, and I felt it was very balanced with opinions.
"I'm more surprised, considering how positive the reactions have been from everyone, internally and externally.
"I'm a realist and can only assume that there were cost cutting factors involved, and probably from both sides of the fence, the Fox Sports side and from Supercars.
"But I just find it very strange that you would mess with a format that's been working so well.
"Craig's arrival might have something to do with that, because like I said, that probably comes down to the numbers thing.
"I have always gotten along well with Craig so that's not going to change, that's just business, he's a popular character."
Although disappointed to lose his role on the broadcast team, Ingall admits he throughly enjoyed the experience Fox Sports offered him.
"It's been really great. For that, I really appreciate the opportunity that Fox gave me," he said.
"TV is a hard gig. I have got to give credit to other people like Neil Crompton that have done it for a lot of years. It's a lot different.
"Sometimes for an ex-driver, it's a bit frustrating, because you're sitting there talking about it and not actually doing it.
"As time went on, I got out of thinking about driving a race car, and more talking about it. That's when I really started to enjoy my Television role."
Ingall says his stint in television has whetted his appetite for more roles within the industry while he also hopes to return to the track more this year with Stadium Super Trucks among his aims.
"For sure, and there's a lot of other motorsports out there as well, and I've got an interest in all of them, and TV in general. There are definitely a lot of opportunities out there in TV land I'd like to pursue," he added.
"I really enjoy the TV side, so definitely going to be working behind the scenes to do more of it, and maybe different directions, maybe totally different directions."
One of those directions could be away from Supercars with Ingall admitting Newcastle may have been the last round he will attend.
"It was great to actually still be around Supercars, and be part of it. Now this has come to end," he said.
"As far as going to another event, or having anything to do with Supercars anymore, this could be it, there's not really any role in the sport for me anymore.
"Newcastle was probably the final round, which is sort of sad, especially when you've had so much of a vested interest in it over so many years. But life goes on.
On a final note, Ingall cheekily adds; "However, there is one positive to the whole thing and that is I don't have to put up with Mark Skaife's regurgitated dinner gags anymore."