Supercars to adopt in-car warning system after B12Hr trial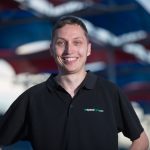 Supercars is set to introduce an in-car warning system designed to alert drivers of upcoming hazards this year following a successful trial at the Liqui-Moly Bathurst 12 Hour.
Championship officials monitored the Australian debut of a cockpit warning light device which was fitted to the entire field at the Mount Panorama GT Classic.
Developed by MoTeC, the system is linked to race control and works in conjunction with the car's data loggers and telemetry.
If a danger is spotted race control can activate the system which will trigger the warning light inside the car to warn the driver of any impending hazards ahead.
A move to introduce the system was triggered by a crash at last year's Bathurst 12 Hour when an unsighted John Martin struck a stricken Audi of Ash Walsh at McPhillamy Park. 
Supercars' new Head of Motorsport Adrian Burgess was impressed by the system confirming to Speedcafe.com that it will be implemented in the series once the device is bulletproof.
It is unlikely the system will be used at the Superloop Adelaide 500 but it is expected to be trialled in practice sessions at events before it is used in a race scenario this season.
"MoTeC have done a very good job of it, they've put a lot of time and energy into it," Burgess told Speedcafe.com.
"For sure, from a safety perspective we need to be there, we need to go there with Supercars. 
"Clearly last year we saw a very big accident (at the Bathurst 12 Hour). 
"Now whether it could have been avoided or not is a different matter, but you've got to do everything you can, especially a circuit like this (Bathurst), when these cars are seriously quick across the top. 
"Any extra warning you can give the driver, that there's potentially something hazardous in front, then we need to make every effort to protect these guys here in the 12 Hour, but also when we come back with the Supercars for the 1000.
"To be honest it's not new. Formula 1's had it for 15 years, but yes, the benefits are clear to see.
"Now we've just got to make sure it's implemented in the right manner, and it's effective for everybody.
"I'm certain at some point it will be (implemented); Adelaide, probably not."
Burgess admits there is still work to be done with teams and officials to ensure the system is reliable.
"There's still a lot of work to do, and there's a bit of work to do with the teams," he added.
"We've got to make sure the GPS signal is strong. 
"We've actually mandated in the rulebook this year for Supercars that the GPS antenna needs to be on the roof, because last year they did some testing, and the signal strength varies depending on the location that you put it in the car. 
"So there's things we need to do in the build of the car and equally with the hardware, the MoTeC hardware inside the car needs to be updated, which is not a big deal. 
"But then the bigger part is probably the automation of the circuit, and how the flag marshals and the marshal posts communicate with race control. 
"It's just going to take a bit of time and a bit of education in making sure that (Race Director) Tim Schenken and his guys in race control have got a product that they're happy with as well, then we'll roll it out as soon as we can."
The system is expected to come at a cost to teams but Supercars is working to introduce it in an affordable manner.