Caruso to partner Waters at Tickford for enduros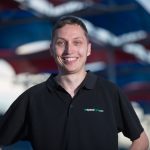 Michael Caruso has landed a drive with Cameron Waters at Tickford Racing for the Pirtek Enduro Cup.
The former Supercars full-timer has been picked up by the Ford squad following confirmation of his departure from Kelly Racing.
After missing out on a. drive at Triple Eight, Caruso had been tipped to join Tickford with the team now confirming he will line up alongside Waters in the #6 Mustang. 
The 35-year-old will bring a wealth of experience to the squad with 11 Supercars seasons under his belt since his debut in 2008. 
During that period he has chalked up 345 starts and two race wins.
The move sees Caruso return to Ford machinery for the first time since a Super2 campaign in 2007 with Ford Rising Stars Racing in an operation that was overseen by Tickford Racing.
"I'm happy to join Tickford Racing, particularly with the Mustang coming on this year," said Caruso. 
"That and driving with Cam, no doubt it's going to be a fantastic partnership. 
"We've got a great relationship from the past, we both race hard, and we'll hopefully fight for some great results at this year's enduros.
"I haven't spoken to Cam, but I'm pretty sure we're on the same wavelength, and we're going there to win," he said of the Great Race. 
"We've got a strong line-up in our camp, and the way the enduro pairings are shaping up up and down pit lane, you need to have two really strong drivers to have a chance to win, so I'm looking forward to teaming up with Cam and seeing how we go.
"I wanted to team up with a team, car, and driver where the combination would work well and give us the opportunity to win races, and this is a fantastic place to position myself to do that."
"I have previous experience with the team in Super2 in 2007, so I'm familiar with the team operations, and though it's been some time I know a lot of the team still, and I started my career with a Ford, so to get back in one is an exciting opportunity.
Caruso will join former Nissan Motorsport team-mate James Moffat who signed two-year co-driver deal with Tickford along with David Russell last season.
The squad is expected to confirm its full enduro line-up soon with Tom Randle understood to be in the frame to join new full-time signing Lee Holdsworth in the #5 car in place of Dean Canto.
Tickford boss Tim Edwards believes Caruso will be a valuable addition to his squad.  
"To have a career as long as Michael has had, you need to do a lot of things right in and out of the car," Edwards said. 
"He's obviously been able to do that for a long while and probably deserves more trophies than he's gotten over the years. Hopefully we'll help him add to that tally this year.
"The nice thing about Michael having his recent experience is we know he can hold his own against the main game guys. 
"Last year we brought Moff (James Moffat) in a similar situation, and he was sensational, so we're very excited at the prospect of having Michael on our side."
Caruso will pilot a Mustang for the first time at the pre-season test at Phillip Island next week.