Tander reflects on frustrating Bathurst exit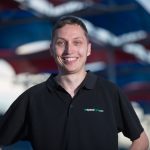 Garth Tander has expressed his frustration after witnessing a strong assault on the Liqui Moly Bathurst 12 Hour unravel. 
The three-time Bathurst 1000 winner was part of a solid looking #22 Audi Sport Team Valvoline crew that had emerged as early race contenders before its race slowly began to disintegrate, eventually resulting in retirement.
A decent opening to the race saw the trio of Tander, Kelvin van der Linde and Frederic Vervisch, that started from fifth, emerge in the podium places during the first quarter of the race.
However, the entry's hopes were dented when the car was caught up in an incident with the #19 Mercedes-AMG driven by Christina Nielsen, who had just rejoined the race, at The Cutting.
The #62 R-Motorsport Aston Martin Vantage, ahead of the third-placed #22 Audi, cleared Car #19 but Tander was caught out by the slowing car and made contact with the rear of the Mercedes, as he attempted to pass the lapped traffic.   
Tander sustained damage to the front of the car but continued to circulate for a couple of laps before diving into the pits where extensive repairs took place.
The car rejoined the race almost seven laps down before its day was curtailed when Vervisch bounced through the gravel before clipping the wall at the top of the mountain on lap 182.   
"It (the car) got away from Fred, obviously across the top and (he) just clipped the wall. It's done too much damage to get it back. That's it for the day," Tander told Speedcafe.com.
"I still don't know what happened with that (#19) Mercedes," he added when asked about the incident with car #19. 
"Christina, came out of the pits and blocked the Aston into Turn 2 for some reason. 
"Then the Aston got through and we go through the kink into The Cutting and (it) just jammed the brake pedal. 
"I was just going to try pass up the inside into The Cutting. 
"I had nowhere to go, hit her in the rear. 
"There was a lot of damage to the front of the car and that's it. 
"(We) fixed the damage easy enough but it broke a lot of the wiring loom, the main wiring loom so it cost us the time to get back out again. 
"(It's a) frustrating day and obviously the #2 car having dramas as well – not the year for Audi this year."
Tander was unsure if the car would have been in the mix for the win.
"Who knows? You're not even halfway when the dramas kicked in," he said.
"We had good car speed, we had to wait to see how the strategy played out through the day.
"The team gave us a great car and it's been fantastic all weekend. It just wasn't our day."