Early exit for Competition Motorsports Porsche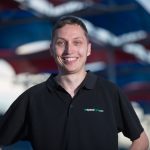 Competition Motorsports is the first retirement from the Liqui-Moly Bathurst 12 Hour.
The #12 Pro-Am Porsche entry came to grief at the top of the mountain on Lap 38 with David Calvert-Jones at the wheel having just taken over from Kiwi Jaxon Evans, who started the race.
Calvert-Jones lost control of the car at McPhillamy Park resulting in the car spearing across the road and into the wall at the inside of the track, bringing out the first Safety Car.
The experienced gentleman driver escaped the incident unscathed but the McElrea Racing run car is unable to rejoin the race.  
"I just made one tiny little mistake and it ends badly. This track can bite you really hard," said Calvert-Jones.
Competition Motorsports has been a regular podium contender at the Bathurst 12 Hour and was in contention to win last year's race.
"It's a shit of a way to leave the race, especially so early," team boss Andy McElrea told Speedcafe.com.
"This car's had a great run over the last couple of years, we've been on the podium every time and won Pro-Am in 2017 so to leave the race so early is gut wrenching to be honest.
"David's fine, he's obviously very upset, which is understandable. 
"There's been a lot of effort go in from him and his great group of supporters so we're just really, really pissed off for them to be honest.
"(It's) just one of those things. 
"Obviously we heat the tyres before they go on the cars nowadays but they're not quite at operating temp and just caught him out. 
"He's done a fantastic job all weekend so he didn't deserve that, that's for sure."
Evans had made a strong start to the race from 14th on the grid and feels for his unfortunate team-mate.
"It's good to see David's okay. When the mountain bites it bites pretty hard and there's no room for error here," Evans told Speedcafe.com.
"It's quite tough for me it was awesome to start the race, a new experience for me but a lot of fun. 
"But unfortunately, for the gentleman drivers it's a lot harder to get in the car for an hour and you're straight into race mode, there's no warm up or anything. 
"He's pretty experienced and doesn't normally make those mistakes so maybe something else went on. I really feel for him."
The Craft Bamboo Black Falcon Mercedes-AMG currently leads the race.