Cramp causes SVG post-race collapse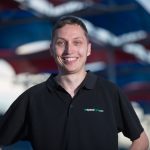 Shane van Gisbergen says the extra physical exertion of having to use two feet to brake led to leg cramps that saw him collapse following a stunning final stint at the Liqui-Moly Bathurst 12 Hour.
Van Gisbergen battled a brake drama alongside rising temperatures inside the cabin of his Triple Eight Team Vodafone Mercedes-AMG GT3 which resulted in him collapsing onto the floor when he reached parc ferme post-race.
A hard charge from seventh to fourth saw van Gisbergen forced to use both feet to create enough pressure on the brakes to drive the car to the limit, due to a braking issue the team had been fighting all weekend.
Medical crews and fellow drivers moved swiftly to help the exhausted Kiwi in parc ferme before the New Zealander was taken by his team to recover in an ice bath at the squad's transporter.
"We obviously have been struggling with the car all week and then Craig (Lowndes) reported that the helmet fan stopped and then Jamie (Whincup) in his stint just kept going on about how hot it was," said van Gisbergen.
"As soon as I crossed the line, you just obviously give up and just the pain set in and how hot – you just realise how hot you were.
"I was fine. It didn't affect me when I was driving, just as soon as I stopped I just felt what I put myself through.
"To get the performance I had to use two feet pushing as hard as I could as something was just not been right with the brakes all weekend. 
"I just started cramping. Just the brake pressure, just the cramp in my legs. I've never, ever driven a car where the brakes are that bad. So It was tough.
"I just tried to stretch my legs out. I was cooking as well, just my legs.
"I can't thank everyone enough, and the medical team were right there, pouring water on me, making all the right things happen. 
"As soon as I got in the ice bath and cooled down I felt fine but just the cramping was the worst. I've never been that bad in a race car before. It was tough.
"I'm okay now. Legs are sore, they'll be sore tomorrow, but once you cool down in the ice bath you're fine."
Van Gisbergen and the Triple Eight crew missed out on the podium finish by 0.2s following frantic finish to the Mount Panorama GT classic.