Pole winning Aston excluded from B12H shootout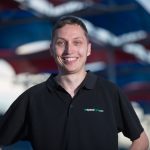 R-Motorsport has been stripped of the Allan Simonsen Pole Award Trophy after stewards excluded the entry from Bathurst 12 Hour Top 10 Shootout.
Impressive rookie Jake Dennis had posted the fastest lap in the shootout but post session checks have revealed the #62 Aston Martin V12 Vantage GT3 had breached the technical regulations. 
The car piloted by Dennis, Marvin Kirchhöfer and Matthieu Vaxiviere had already been hit with a two place grid penalty before session which left them third on the grid.
"Officials found a technical breach related to the mandated rev limit threshold of the Aston Martin Vantage GT3s V12 engine," read a statement from the Bathurst 12 Hour.
"The breach was unintentional and related to the vehicle's manufacturer-supplied homologation documents.
"R-Motorsport had initially been award the prestigious Allan Simonsen pole trophy despite the pit lane speeding penalty – which was to be applied to starting grid rather than the shootout results.
"However, the exclusion of the car ensures the car will be recorded to have failed to set a time – handing the Allan Simonsen Pole Award to GruppeM Racing on their first visit to Mount Panorama.
"The penalty applied by the stewards of the meeting was exclusion from the results of the Pirelli Top-10 Shootout."
The exclusion coupled with the penalty will see the car drop to 12th on the grid for Sunday's race.
Officials are yet to release the final grid with all the penalties applied.
The #999 GruppeM Racing Mercedes-AMG that will start from pole position alongside the #77 Craft Bamboo Black Falcon entry.
The Bathurst 12 Hour is set to begin at 0545 AEDT.
Result: Liqui-Moly Bathurst 12 Hour, Qualifying
| | | | | | |
| --- | --- | --- | --- | --- | --- |
| Pos | Car | Team | Driver | Car | Time |
| 1 | 999 | Mercedes-AMG Team GruppeM Raci | Raffaele Marciello (ITA) | Mercedes AMG GT3 | 2:02.935 |
| 2 | 77 | Team Craft Bamboo Black Falcon | Maro Engel (GER) | Mercedes AMG GT3 | 2:03.042 |
| 3 | 107 | Bentley Team M-Sport | S.Kane/J.Pepper | Bentley Continental | 2:03.108 |
| 4 | 777 | The Bend Motorsport Park | David Reynolds (AUS) | Mercedes AMG GT GT3 | 2:03.174 |
| 5 | 22 | Audi Sport Team Valvoline | K.van der Linde/F.Vervisch | Audi R8 LMS | 2:03.179 |
| 6 | 912 | EBM | D.Werner/D.Olsen/M.Campbell | Porsche 911 GT3-R | 2:03.186 |
| 7 | 19 | Team Nineteen, Black Falcon | M.Griffith/Y.Buurman/C.Nielsen | Mercedes AMG GT GT3 | 2:03.365 |
| 8 | 2 | Audi Sport Team Valvoline | C.Haase/M.Winkelhock | Audi R8 LMS | 2:03.783 |
| 9 | 18 | KC Motorgroup LTD | A.Imperatori/O.Jarvis | Nissan GTR Nismo GT3 | 2:04.191 |
| EX | 62 | R-Motorsport | J.Dennis/M.Vaxiviere/M.Kirchhoefer | Aston Martin Vantage | |
| 11 | 108 | Bentley Team M-Sport | A.Soucek/M.Soulet/V.Abril | Bentley Continental | 2:02.858 |
| 12 | 911 | EBM | R.Dumas/M.Jaminet | Porsche 911 GT3-R | 2:02.879 |
| 13 | 12 | Ice Break – Virgin Australia | D.Calvert-Jones/K.Estre/J.Evans | Porsche GT3-R | 2:02.912 |
| 14 | 34 | Walkenhorst Motorsport | C.Krognes/N.Catsburg/M.Jensen | BMW M6 GT3 | 2:02.930 |
| 15 | 42 | BMW Team Schnitzer | Chaz Mostert (AUS) | BMW M6 GT3 | 2:02.944 |
| 16 | 35 | KC Motorgroup LTD | T.Matsuda/J.Burdon | Nissan GTR Nismo GT3 | 2:02.952 |
| 17 | 760 | R-Motorsport | F.Kamelger/P.Leemhuis/M.Parry | Aston Martin Vantage | 2:03.100 |
| 18 | 11 | Objective Racing | T.Walls/A.Watson | McLaren 650s | 2:03.357 |
| 19 | 888 | Mercedes-AMG Team Vodafone | Jamie Whincup (AUS) | Mercedes AMG GT GT3 | 2:03.450 |
| 20 | 27 | HubAuto Corsa | N.Foster/N.Percat | Ferrari 488 GT3 | 2:03.577 |
| 21 | 75 | Sunenergy1 Racing | K.Habul/T.Jaeger | Mercedes AMG GT GT3 | 2:03.859 |
| 22 | 98 | Aussie Driver Search | T.Hazelwood/D.Russell | Audi R8 LMS | 2:04.066 |
| 23 | 51 | Spirit of Race | P.Dalla Lana/P.Lamy/M.Lauda | Ferrari 488 GT3 | 2:04.116 |
| 24 | 29 | Haemokinisis/ Trofeo Estate/ P | B.Porter/I.Capelli/D.Canto | Lamborghini Huracan | 2:04.153 |
| 25 | 9 | Melbourne Performance Centre | M.Cini/L.Holdsworth | Audi R8 LMS | 2:04.492 |
| 26 | 6 | Wall Racing | Cameron McConville (AUS) | Lamborghini Huracan | 2:05.052 |
| 27 | 91 | MARC Cars Australia | P.Tracy/A.de Pasquale | MARC Car Marc II V8 | 2:05.365 |
| 28 | 4 | Grove Group | Bejamin Barker (GBR) | Porsche 911 GT3 Cup | 2:06.452 |
| 29 | 20 | Localsearch | Daniel Jilesen (NZL) | MARC Car Marc II V8 | 2:06.697 |
| 30 | 43 | The Furniture Broker | D.Stutterd/S.Fillmore/R.Muscat | Porsche 911 GT3 Cup | 2:07.297 |
| 31 | 23 | Team Carrera Cup Asia | C.van der Drift/P.Tresidder | Porsche 911 GT3 Cup | 2:08.538 |
| 32 | 92 | AJC Portables/ Nana's Naturals | Dylan O?Keeffe (AUS) | MARC Car Marc I | 2:10.360 |
| 33 | 96 | GAP Solutions / SEKTOR | Hadrian Morral (AUS) | MARC Car Marc I | 2:11.497 |
| 34 | 71 | Exedra Motorsport | Mathias Beche (SWI) | KTM X-Bow GT4 | 2:17.072 |
| 35 | 48 | M Motorsport | Glen Wood (AUS) | KTM X-Bow GT4 | 2:17.774 |
| 36 | 13 | JET Environmental | Brett Strom (USA) | BMW M4 GT4 | 2:18.511 |
| 37 | 55 | Ginetta Australia | B.Schumacher/J.Vernon/A.Love | Ginetta G55 GT4 | 2:19.127 |
| 38 | 50 | Vantage Freight | T.Harrison/C.Wood | KTM X-Bow GT4 | 2:23.745 |