Mostert: Racing to honour late Schnitzer boss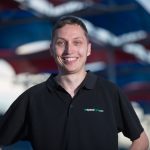 Chaz Mostert is determined to help Schnitzer Motorsport to a strong result at the Liqui-Moly Bathurst 12 Hour to pay tribute to the squad's iconic former leader Charly Lamm. 
The famous BMW squad is racing for the first time this weekend at Mount Panorama since the sudden loss of its former team principal Lamm, who succumbed to short illness last week, aged 63.
Lamm led the team for more than four decades in which time Schnitzer Motorsport recorded an outright victory in the 1999 24 Hours of Le Mans, multiple wins in the 24 Hours of Nurburgring and 24 Hours of Spa, and titles across several series.
Mostert only met Lamm once during last year's Bathurst 12 Hour when he scored pole position before starring in the race on his debut with the team.
However, the Supercars ace, who has enjoyed multiple factory BMW outings since, admitted that Lamm had a huge influence on him, labelling the former Schnitzer boss as a gentleman of the sport.
"Obviously, this weekend, for us, there's a lot of extra pressure as well that we're putting on ourselves because we unfortunately lost Charly Lamm last week, which is, to be honest, pretty emotional for me," Mostert told Speedcafe.com.
"I only got to hang out with him once, which was last year here at the Bathurst 12 Hour and to be honest, the influence he had on me was massive, because I don't think there was any bigger gentleman in motorsport than him.
"The way he controlled himself and the way that he tried to put his team forward was massive."
Lamm's sudden death has increased the motivation to perform at Mount Panorama this weekend where Mostert will pilot an M6 GT3 alongside former DTM champion Martin Tomcyzk and GT ace Augusto Farfus.
Last year's Bathurst 12 Hour ended in disappointment for Mostert when he was involved in a multiple car incident in the final quarter of the race having dominated the early stages.
"We're really racing for Charly Lamm and we'll see what we come up with," he added.
"For me to be a part of Schnitzer Motorsport was an amazing experience and then obviously this weekend and everything that's happened over the last week, we're putting pressure on ourselves to perform as high as we can.
"We really want to get a great result in this week for Charly and keep adding to his legacy."
Mostert heads to Bathurst having represented BMW at last weekend's Rolex Daytona 24 Hours which is the latest of a string of factory appearance for the German marque.
While Supercars remains Mostert's key focus, the 26-year-old feels he is beginning to settle into his role in BMW Motorsport's GT program.
"To be honest, it's just started to sink in a little bit, how privileged I am," he said.
"From the world I come from in Australia, it's not really often you get to wear a white, button up shirt with a prestige logo, like BMW on it. 
"It's fantastic racing for Ford and Supercars, but it really is a different world overseas. 
"To me, it really sinks in to racing for a legendary team, like Schnitzer Motorsport, here for the Bathurst 12 Hour and to do some other rounds with them as well. 
"There's a lot of drivers who would dream of doing that, just in Europe to be part of that team, so for me, it's pretty special."
The Bathurst 12 Hour begins with opening practice scheduled for 0850 local time.