Lauda Ferrari tops opening Bathurst practice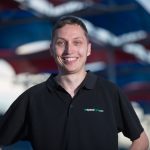 The Spirit of Race Ferrari piloted by Mathias Lauda topped the opening session at the Liqui-Moly Bathurst 12 Hour.
Lauda, son of Formula 1 legend Niki Lauda, clocked a 2:06.86 late in the hit out to put the Ferrari 488 GT3, he shares with Paul Dalla Lana and ex-F1 driver Pedro Lamy to the top of the times.  
The session, held in bright and breezy conditions, saw 28 of the 40 cars log times with the outing excluding Platinum and Gold FIA rated drivers, ensuring the majority of the pro runners remained in the garage. 
Australian Josh Burdon, who had topped the times until late on, was only 0.07s shy of the Ferrari in the #35 KCMG Nissan Nismo GTR GT3. 
Third belonged to the #75 SunEnergy1 Mercedes AMG-GT3 piloted by ex-pat Aussie Kenny Habul, who emerged fastest in the early stages. 
Yasser Shahin was fourth in the Erebus Motorsport Mercedes-AMG ahead of the Class I #91 entry thanks to Erebus Motorsport Supercars driver Anton De Pasquale.      
The Class B Ash Seward Motorsport Porsche occupied sixth in front the Competition Motorsport Porsche driven by David Calvert-Jones.
The top 10 was completed by the Objective Racing McLaren (Tony Walls), Aussie Driver Search Audi (Roger Lago) and the KCMG Nissan (Edoardo Liberati).       
Practice 2 was due to begin at 0920 local time although an incident with the #3 Audi of Pete Storey delayed proceedings by 15 minutes. 
Results Liqui-Moly Bathurst 12 Hour Practice 1
1

 

 

51

 

Spirit of Race

               

Mathias Lauda (AUT)

   

Ferrari 488 GT3

     

2:06.8627*
2

 

 

35

 

KC Motorgroup LTD

           

Joshua Burdon (AUS)

   

Nissan GTR Nismo GT3
2:06.9347

 

00.0720
3

 

 

75

 

Sunenergy1 Racing

           

Kenny Habul (USA)

     

Mercedes AMG GT GT3

 

2:07.2406

 

00.3779
4

 

777

 

The Bend Motorsport Park

     

Yasser Shahin (AUS)

   

Mercedes AMG GT GT3

 

2:08.0403

 

01.1776
5

 

 

91

 

MARC Cars Australia

         

P.Tracy/A.de Pasquale

 

MARC Car Marc II V8

 

2:08.1040

 

01.2413
6

 

 

43

 

The Furniture Broker

         

Richard Muscat (AUS)

   

Porsche 911 GT3 Cup

 

2:08.5664

 

01.7037
7

 

 

12

 

Ice Break – Virgin Australia

 

David Calvert-Jones USA
Porsche GT3-R

       

2:08.7770

 

01.9143
8

 

 

11

 

Objective Racing

             

Tony Walls (AUS)

       

McLaren 650s

       

2:08.8231

 

01.9604
9

 

 

98

 

Aussie Driver Search

         

Roger Lago (AUS)

       

Audi R8 LMS

         

2:09.2292

 

02.3665
10

 

18

 

KC Motorgroup LTD

           

Edoardo Liberati (ITA)

 

Nissan GTR Nismo GT3
2:09.7190

 

02.8563
11

 

6

 

Wall Racing

                 

Julian Westwood (GBR)

 

Lamborghini Huracan

 

2:10.4306

 

03.5679
12
540

 

Black Swan Racing

           

Tim Pappas (USA)

       

Porsche 911 GT3-R

   

2:12.1187

 

05.2560
13

 

4

 

Grove Group

                 

Stephen Grove (AUS)

   

Porsche 911 GT3 Cup

 

2:12.5354

 

05.6727
14

 

3

 

Melbourne Performance Centre

 

Pete Storey (GBR)

     

Audi R8 LMS

         

2:12.6434

 

05.7807
15

 

9

 

Melbourne Performance Centre

 

Marc Cini (AUS)

       

Audi R8 LMS

         

2:13.2436

 

06.3809
16

 

96

 

GAP Solutions / SEKTOR

       

Hadrian Morral (AUS)

   

MARC Car Marc I

     

2:13.5558

 

06.6931
17

 

19

 

"Team Nineteen, Black Falcon"
Mark Griffith (AUS)

   

Mercedes AMG GT GT3

 

2:13.5686

 

06.7059
18
760

 

"Aston Martin St. Gallen, B&O
F.Kamelger/A.Baenziger/P.Leemhuis
Aston Martin Vantage
2:13.9426
07.0799
19
20

 

Localsearch

                   

Adam Hargraves (AUS)

   

MARC Car Marc II V8

 

2:15.2947
08.4320
20
29

 

Haemokinisis/ Trofeo Estate/ P
Jim Manolios (AUS)

     

Lamborghini Huracan

 

2:15.4867
08.6240
21
34

 

Walkenhorst Motorsport

       

Mikkel Jensen (DEN)

   

BMW M6 GT3

         

2:18.1960
11.3333
22
55

 

Ginetta Australia

             

Karl Reindler (AUS)

   

Ginetta G55 GT4

     

2:18.3570
11.4943
23
13

 

JET Environmental

             

Brett Strom (USA)

     

BMW M4 GT4

         

2:19.6261
12.7634
24
48

 

M Motorsport

                 

Justin McMillan (AUS)

 

KTM X-Bow GT4

       

2:19.8130
12.9503
25
71

 

Exedra Motorsport

             

Dean Koutsoumidis (AUS)
KTM X-Bow GT4

       

2:21.0492
14.1865
26
23

 

Team Carrera Cup Asia

         

Jinlong Bao (CHN)

     

Porsche 911 GT3 Cup

 

2:21.5320
14.6693
27
92

 

AJC Portables/ Nana's Naturals
Jason Busk (AUS)

       

MARC Car Marc I

     

2:24.2113
17.3486
28
50

 

Vantage Freight

               

David Crampton (AUS)

   

KTM X-Bow GT4

       

2:31.1903
24.327