Audi fastest in Bathurst 12 Hour Practice 3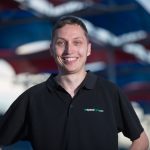 Audi moved to the top of the timing sheets as times began to tumble in third practice at the Liqui-Moly Bathurst 12 Hour.
Factory driver Christopher Mies, who holds the Mount Panorama lap record, clocked a 2:04.51s effort in the final quarter of the 60 minute session. 
The lap was more than a second slower than the pace set in the corresponding session last year. 
Mies, sharing the #2 entry with Christopher Haase and Markus Winkelhock, was some 0.2s faster than nearest rivals Bentley Motorsport, thanks to Andy Soucek in the #108 Continental GT3.
Despite being involved in a crash in Practice 2, the repaired Triple Eight Team Vodafone Mercedes-AMG ended up third fastest courtesy of Jamie Whincup.
Whincup and Shane van Gisbergen were both used in the session. 
The GruppeM Racing Mercedes-AMG was fourth with Maximilian Buhk setting the pace in the #999 entry.
Ferrari were represented in the top five thanks to HubAuto Corsa as Nick Foster set the pace. 
The only other Ferrari in the field was absent from the session as the Spirit of Race team continue to repair the car after being involved in a crash during Practice 2.
R-Motorsport (Aston Martin) occupied sixth ahead of the #77 Craft Bamboo Mercedes-AMG.
The sister #107 Bentley Motorsport Continental GT3 was eighth while the top 10 was completed by the #18 KCMG Nissan GTR GT3 and the #98 Aussie Driver Search Audi. 
Practice 3 was briefly halted at the halfway point when the MARC II Mustang driven by Adam Hargraves stopped at Skyline with damage.
The field, which was down to 37 cars in Practice 3, will return to the track for Practice 4 scheduled for 1515 local time.  
Results: Liqui-Moly Bathurst 12 Hour, Practice 3
| | | | | | | | |
| --- | --- | --- | --- | --- | --- | --- | --- |
| Pos | Car | Team | Driver | Car | Class | Fastest Lap | Gap |
| 1 | 2 | Audi Sport Team Valvoline | C.Mies/C.Haase/M.Winkelhock | Audi R8 LMS | PP | 2:04.514 | |
| 2 | 108 | Bentley Team M-Sport | A.Soucek/M.Soulet | Bentley Continental | PP | 2:04.728 | 00.214 |
| 3 | 888 | Mercedes-AMG Team Vodafone | J.Whincup/S.van Gisbergen | Mercedes AMG GT GT3 | PP | 2:04.764 | 00.250 |
| 4 | 999 | Mercedes-AMG Team GruppeM Racing | M.Buhk/M.Goetz | Mercedes AMG GT3 | PP | 2:04.774 | 00.260 |
| 5 | 27 | HubAuto Corsa | N.Foster/N.Percat | Ferrari 488 GT3 | PP | 2:04.843 | 00.329 |
| 6 | 62 | Aston Martin St. Gallen, B&O | J.Dennis/M.Vaxiviere/M.Kirchhoefer | Aston Martin Vantage | PP | 2:04.865 | 00.351 |
| 7 | 77 | Team Craft Bamboo Black Falcon | L.Stolz/G.Paffett | Mercedes AMG GT3 | PP | 2:04.912 | 00.399 |
| 8 | 107 | Bentley Team M-Sport | J.Gounon/J.Pepper | Bentley Continental | PP | 2:04.961 | 00.448 |
| 9 | 18 | KC Motorgroup LTD | A.Imperatori/O.Jarvis | Nissan GTR Nismo GT3 | PP | 2:05.092 | 00.578 |
| 10 | 98 | Aussie Driver Search | T.Hazelwood/R.Lago | Audi R8 LMS | AP | 2:05.117 | 00.603 |
| 11 | 34 | Walkenhorst Motorsport | C.Krognes/N.Catsburg/M.Jensen | BMW M6 GT3 | PP | 2:05.155 | 00.641 |
| 12 | 22 | Audi Sport Team Valvoline | G.Tander/F.Vervisch | Audi R8 LMS | PP | 2:05.179 | 00.665 |
| 13 | 35 | KC Motorgroup LTD | K.Chiyo/T.Matsuda/J.Burdon | Nissan GTR Nismo GT3 | PP | 2:05.375 | 00.861 |
| 14 | 911 | EBM | S.Muller/M.Jaminet | Porsche 911 GT3-R | PP | 2:05.391 | 00.877 |
| 15 | 777 | The Bend Motorsport Park | Y.Shahin/L.Youlden | Mercedes AMG GT GT3 | AP | 2:05.522 | 01.008 |
| 16 | 42 | BMW M Motorsport | C.Mostert/M.Tomczyk | BMW M6 GT3 | PP | 2:05.536 | 01.022 |
| 17 | 9 | Melbourne Performance Centre | M.Cini/L.Holdsworth | Audi R8 LMS | AP | 2:05.722 | 01.209 |
| 18 | 29 | Haemokinisis/ Trofeo Estate/Pirelli | B.Porter/I.Capelli/D.Canto | Lamborghini Huracan | AP | 2:06.005 | 01.491 |
| 19 | 912 | EBM | D.Werner/D.Olsen | Porsche 911 GT3-R | PP | 2:06.308 | 01.794 |
| 20 | 19 | Team Nineteen, Black Falcon | Y.Buurman/C.Nielsen | Mercedes AMG GT GT3 | AP | 2:06.322 | 01.808 |
| 21 | 11 | Objective Racing | T.Walls/A.Watson | McLaren 650s | AP | 2:06.437 | 01.923 |
| 22 | 12 | Ice Break – Virgin Australia | D.Calvert-Jones/J.Evans | Porsche GT3-R | AP | 2:06.518 | 02.004 |
| 23 | 75 | Sunenergy1 Racing | D.Baumann/T.Jaeger | Mercedes AMG GT GT3 | AP | 2:07.027 | 02.513 |
| 24 | 760 | Aston Martin St. Gallen, B&O | F.Kamelger/M.Parry | Aston Martin Vantage | PP | 2:07.768 | 03.254 |
| 25 | 6 | Wall Racing | C.McConville/T.D'Alberto | Lamborghini Huracan | AP | 2:07.813 | 03.299 |
| 26 | 4 | Grove Group | B.Grove/B.Barker | Porsche 911 GT3 Cup | B | 2:08.712 | 04.198 |
| 27 | 91 | MARC Cars Australia | K.Kassulke/P.Morris | MARC Car Marc II V8 | I | 2:09.616 | 05.102 |
| 28 | 43 | The Furniture Broker | D.Stutterd/S.Fillmore | Porsche 911 GT3 Cup | B | 2:11.958 | 07.445 |
| 29 | 92 | AJC Portables/ Nana's Naturals | J.Busk/D.O?Keeffe | MARC Car Marc I | I | 2:12.826 | 08.313 |
| 30 | 23 | Team Carrera Cup Asia | P.Tresidder/P.Hamprecht | Porsche 911 GT3 Cup | B | 2:13.077 | 08.563 |
| 31 | 96 | GAP Solutions / SEKTOR | Mathijis Bakker (NLD) | MARC Car Marc I | I | 2:16.041 | 11.527 |
| 32 | 20 | Localsearch | Adam Hargraves (AUS) | MARC Car Marc II V8 | I | 2:16.342 | 11.828 |
| 33 | 48 | M Motorsport | G.Wood/D.Lillie | KTM X-Bow GT4 | C | 2:17.357 | 12.843 |
| 34 | 71 | Exedra Motorsport | J.Winslow/M.Beche | KTM X-Bow GT4 | C | 2:18.300 | 13.786 |
| 35 | 13 | JET Environmental | D.Jorgensen/B.Strom | BMW M4 GT4 | C | 2:19.573 | 15.059 |
| 36 | 55 | Ginetta Australia | B.Schumacher/J.Vernon | Ginetta G55 GT4 | C | 2:20.230 | 15.716 |
| 37 | 50 | Vantage Freight | T.Harrison/C.Wood | KTM X-Bow GT4 | C | 2:21.991 | 17.477 |