Seton selected for BMW Junior GT Shootout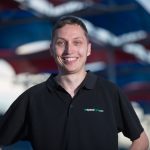 Aaron Seton is vying for a BMW factory GT drive after being invited to participate in the marque's junior shootout program in Germany.
The son of Australian touring car legend Glenn Seton has abandoned plans to race a TA2 car in Combined Sedans as part of the support program at this weekend's Liqui-Moly Bathurst 12 Hour and will head to Europe instead.
Seton is set to join a group of 20 candidates that will undergo a series of tests from February 4-6, in the hope of receiving a spot in BMW's Junior program and a drive in the Italian GT Championship.
The Gold Coast based driver will undergo a series of mental and physical tests before selectors whittle the group down to a final five that will tackle an exam on BMW Motorsport's simulator.
An opportunity to take part in the shootout arrived after Seton wrote letter to the marque following his Class C win at last year's Bathurst 12 Hour that saw him pilot a BMW M4 GT4 alongside Tony Longhurst and Matthew Brabham.
"I was fortunate to be in front of a few of the BMW people through the (Bathurst) 12 Hour last year with the Boatworks team, and I got in contact with them," Seton told Speedcafe.com.
"Last week I got a phone call and got invited over to the BMW Junior Shootout for 2019.
"First of all, I can't thank Tony (Longhurst) enough for letting me drive with the team.
"It's all come about really quick, but I've been fortunate enough that I've been training really hard on my fitness for the last few months, and I've been on the simulator a fair bit preparing as much as I can.
"I feel I'm ready for what they're going to throw at me, and I'll give it my best shot.
"It's a once in a lifetime opportunity, to get over there and meet everyone in BMW, and I can't wait."
Seton is due to fly to Germany tonight ahead of the shootout which begins next week.