Richards and Winterbottom reunite for Pirtek Enduro Cup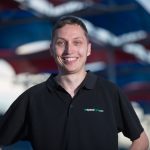 Reigning Supercheap Auto Bathurst 1000 winner Steven Richards will join Mark Winterbottom at Irwin Racing for the Pirtek Enduro Cup.
The signing reunites an enduro partnership that saw Richards and Winterbottom join forces for six years at Ford Performance Racing, now Tickford racing, which included a Bathurst 1000 win in 2013.
Richards had been on the co-driver market following Triple Eight's decision to scale back to two cars as a result of Craig Lowndes' full-time Supercars retirement, that broke up a successful double act that yielded two Bathurst wins.
Winterbottom is eagerly awaiting the opportunity to race the Triple Eight-built Irwin Racing ZB Commodore alongside Richards who now has five Bathurst 1000 wins to his name.
"Form guide wise to pick up the current Bathurst Champion as a co-driver, that's as good as you can get," said Winterbottom. 
"Richo and I have been mates for years and we've had a lot of cracks at Bathurst together and had some really strong enduro campaigns but unfortunately only have one win to go against our names together.
"Leading into the enduros this year with Bathurst being Round 1 (of the Pirtek Enduro Cup), I think experience will be even more crucial than ever and Richo has that experience with a Triple Eight car so he is the perfect asset to pick up with his ability, knowledge and talent.
"I think the credibility of the team is really good at the moment and people can see good things are happening.
"To land him is another benefit for the team, he'll play a role all year, come to tests, come into the workshop and he's another smart head we'll have at the team."
Now with his enduro future secured at Charlie Schwerkolt's team, Richards, who will race in Porsche Carrera Cup Australia this season, is excited by the chance to replicate past successes.
"After last year a new opportunity opened up for me and Frosty indicated a vision Charlie had for the team and how they were going to move forward which sparked my interest," said Richards.
"I'm really looking forward to what lies ahead, Frosty and I have always kept in touch and remained good friends since we finished racing together.
"I've got a lot of respect for him and his ability and I'm really excited to team up again and hoping to replicate what happened for us in 2013."
The Pirtek Enduro Cup will begin at the Bathurst 1000 from October 10-13.