FEATURE: Supercars team owner's Monte Carlo Rally adventure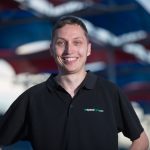 The sight of rally cars doing battle on the treacherous mountainous Monte Carlo roads will forever draw emotions from one of Supercars' leading bosses.
It was at one of rallying's most iconic events 40 years ago this weekend where a journey into motorsport team management began for Triple Eight owner Roland Dane. 
Renowned for his success in touring car racing in Britain (British Touring Car Championship) and Australia (Supercars), it is perhaps hard to believe that it all began with an alpine adventure into the unknown, centred around a plucky British built Panther sportscar, and a borrowed Bedford van from triple Formula 1 world champion Sir Jack Brabham.  
This assault on some of the most challenging roads in motorsport was triggered by Noel Francis, the son of a wealthy Greek shipowner, who approached British sportscar manufacturer Panther in 1978 to build a rally car to compete in selected major events.
Dane, then aged 21, was working for the Surrey-based Panther firm as an apprentice and soon found himself leading the project to build a Panther Lima rally car to Group 4 specification, the set of FIA rules before the infamous Group B beasts. 
Largely based around Vauxhall components including a 2.3 litre engine, the car quickly took shape and the chance to tackle the snow covered 1979 Monte Carlo Rally roads beckoned. 
"I had a little corner of the Panther workshop, and myself and one mechanic built the car and it then turned out that we were going to be the service crew as well, which I didn't really contemplate at the beginning of the adventure," Dane explained to Speedcafe.com.
"So we became the service crew for this guy and then I needed a service support vehicle, as Panther certainly weren't going to lend me the works van to go off to France for 10 days.
"I had to see who I could blag one off and Jack Brabham was a Vauxhall dealer and a Panther dealer in South London.
"So I went and asked him, and he was kind enough to lend me a Bedford CF camper that turned out used to tow Geoff Brabham's Formula Ford car. 
"I soon learnt that you either needed very good snow tyres, or you needed snow chains, and I had neither. 
"I ended up spending our per diem money and buying snow chains to put on this thing so that we didn't get stuck in the Alps as it was a very snowy year."
Back then competitors were able to start the rally from five venues across Europe before meeting up in the French Alp town of Gap, where the rally proper begins.
Dane and his team took the Panther Lima and their borrowed service van south from London.
Having arrived in Gap, the size of the task of completing the rally dawned on the group as they joined the 150 plus field that ranged from might of the factory teams from Ford and Fiat to the ultimate privateer adventurers, as Dane explains.
"We had car number 91 in front of us, and those days you were talking about 150 plus entries, the car was an Opel Kadett with a German count and countess as their driver and co-driver," said Dane.
"They had a beautiful Mercedes service van following them and everything, with a coffee machine in the back, and doughnuts all the time. They were very generous to us, in feeding us when I'd spent our per diem money.
"Immediately behind us in car number 93 were a couple of Aussies who got a Fiat 128 from Avis flown over, taken it up to have a roll cage and fire extinguisher put it in it and entered the rally.
"They were the ultimate adventurers and they also finished the rally. 
"They left their car at Nice Airport, with the roll cage still in it and everything, and flew back to Australia, so it might still be there."
Today with the advances of technology in GPS, internet, smart phones and drones, the process of tracking cars is far simpler than the archaic methods of 1979.
Couple that with the relentless nature of the event, which consisted of 30 gruelling and often perilous stages that covered 619km, the Monte proved to be a formidable task to just make the finish.
"I think the biggest challenge was that the rally didn't stop," said Dane. 
"I can't remember having any time off. I think there was one night in it where we could rest. But basically it carried on through the night.
"There was none of this start at 0800 in the morning, finish at 1600 in the afternoon type approach, that seems to be standard these days, and there were far more stages.
"You had to try and chase (the car), just without anything other than a very local, low range walkie talkie thing, which you could use to locate the car when you were a couple of kilometres apart, but you didn't have anything like a mobile phone.
"They were driving across the mountain, and you were trying to drive around it to meet it on the other side, to try and put the car right, or put some more tyres on it, or whatever you had to do in the lay by, up to your arms in snow and ice.
"Sometimes you'd miss each other, and then you had to hope that one had just simply missed the other. We didn't always meet when we should have done so it was far, far more difficult logistically to do it.
"The big works teams had different scenarios and they had cars that didn't have to do every point of contact. They'd have one doing one, and then leap frogging two or three ahead.
"I think the Lancia team had helicopters, whereas all the privateers, we were all trying to keep up with the rally all the time.
"If you look at the Alps, there aren't actually masses of roads so you haven't got masses of choice if you're not on the rally route, which obviously you can't on the special stage.
"You would have to sometimes take a route that might take a bloody long time to get round, to meet the car at the other side of the mountain.
"We didn't have Red Bull at the time. I can't remember the name of what we were taking but everyone in the rally was taking something, I can promise you, to stay awake."
Despite the logistical nightmare and the myriad of challenges the Monte possesses, Dane and his team assisted its driver Francis in becoming a classified finisher, albeit outside of the top 100 – while the event won by the Lancia Stratos of Bernard Darniche and co-driver Alain Mahé.
"Along the way, we learnt an awful lot. It was a real adventure far more so than it would be today," added Dane.
"I can't remember exactly where we finished, but it was just outside the top 100, so we didn't participate in the final night but we were still classified as finishers.
"The car was reliable. I was proud of the fact that although it wasn't very fast, it was very reliable. It hit plenty of snow banks, but we could pull it out.
"We were in at the deep end, and it was a big eye opener, as well as being a massive adventure.
"Building and running that car was something that absolutely, I learnt a hell of a lot in a very, very short space of time."
Dane went on to manage Francis at the Monte Carlo Rally for the next two seasons, but it was the 1979 edition that sticks large in his memory.
Whenever January rolls around, the memories of the Monte come flooding back, but an opportunity to return with today's modern technology is not on the wish list.
"I love watching it (the Monte Carlo Rally), and I'll go without watching plenty of rallying," he said. 
"I won't automatically turn it on, but if I see Monte Carlo, and the Col de Turini in particular, and how emotive that was, I watch it.
"I don't think I'd want to do it again. I think it's changed so much. It's still spectacular to watch the top guys going through but the fields aren't the same.
"I would have loved to do the African Safari Rally for the adventure.
"Monte was an adventure and that's why I enjoyed it so much, because it was something that you just couldn't go and do every day."
Today will see the Monte Carlo Rally reach its conclusion as the 2019 World Rally Championship springs into gear.