Weird case of déjà vu as Davison settles in at Tickford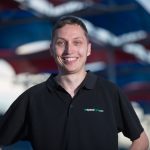 Will Davison described his return to Tickford Racing's headquarters this week as 'a weird case of déjà vu' as preparations for the 2019 campaign step up.
The two-time Supercheap Auto Bathurst 1000 winner headed to Campbellfield to connect with his new crew that will prepare the 23Red Racing Ford Mustang following the team's decision to join forces with Tickford Racing.
Team owner Phil Munday's plan to bring his single car operation to Tickford sees Davison return to the Ford squad which he raced for from 2011 to the end of 2013, a period that yielded 10 race wins. 
This week marked his first visit to the factory since leaving the squad five years ago, although the 36-year-old admitted it felt like he had never left the team when touring the workshop.
Tickford will run Mustangs for Davison, Chaz Mostert, Cameron Waters and new recruit Lee Holdsworth this season.
"It was a weird case of déjà vu for sure," Davison told Speedcafe.com.
"I have a lot of good memories from my time there. It was quite strange walking in, and just going around to all the departments again, seeing a lot of familiar faces and a lot of new ones as well. 
"It felt like I got welcomed in with open arms. It was a really nice, warm reception. 
"A bit of water has gone under the bridge in the last five years from their point of view. They have won a championship (2015), and I've had an interesting five years.
"It was really like I never left, still lots of memorabilia of myself around the place, and old pictures and whatnot. 
"It certainly was good to get the ball rolling for the year, and meet my new crew, and have a look at the progress for the Mustang."
Having operated in smaller operations since leaving, namely Erebus Motorsport (2014-2015), Tekno Autosports (2016-2017), and 23Red Racing last year, the visit reaffirmed the benefits of racing for one of the championship's larger operations.
"There's a fine line between the benefits of a small team and the benefits of a big team," said Davison.
"But at the end of the day, there's a reason why all of the big teams have done a majority of the winning over the years. 
"If you can get that culture and structure right in a big organisation, that's where you need to be. 
"It's cool to be in a big group of engineers again at a place where you can develop and manufacture, have dynos running 24/7, and properly search for that improvement. 
"At the end of the day, that's what I love about the sport. It was cool to be back in that sort of environment." 
Tickford has undergone an engineering restructure as revealed by Speedcafe.com which sees Mark Winterbottom's former race engineer Brendan Hogan paired with Davison for the season.
Hogan will operate under a new head of engineering in Brad Wischusen while Matt Roberts takes over the team manager role from Chris O'Toole.
Davison says the opportunity to gel with his crew this week was valuable.
"At a team like that it is about how well everyone works together," added Davison.
"I think Tickford have really implemented some changes that'll see the engineering group work much closer by implementing an engineering manager so to speak and Matty Roberts changing his role, moving him to team managing position.
"There's some really good operators there which we'll see. 
"I think everything's really working as one.
"I'm certainly happy with the couple of days I've spent with Brendan. He's an experienced guy really and I think I'm in a stage in my career too where I think my experience can really help the way we work together. 
"We have just got to get on with the job and just try and focus on what we need to focus on."
Davison will jump behind the wheel of his new Mustang Supercar for the first time at next month's pre-season test at Phillip Island on February 14.