GRM commits to Alfa Romeo TCR Australia program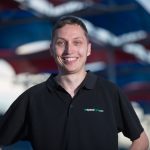 Garry Rogers Motorsport has announced plans to field a pair of Alfa Romeos in the inaugural TCR Australia Series this year.
As previously reported, the Supercars squad had been evaluating involvement in the new two litre touring car series but has now committed to purchasing two brand-new Alfa Romeo Giulietta Veloces.
Built by Italian team Romeo Ferraris, the two Alfa Romeos are currently under construction at the team's race shop in Milan, Italy.
The cars will be 2019-specification, with the squad currently completing the homologation of the brand-new Giulietta Veloce vehicles that will be used in the TCR-specification World Touring Car Cup.
The deal arrives after GRM director Barry Rogers and engineer Richard Hollway visited the Romeo Ferraris operation as part of a a TCR fact finding mission.  
GRM will become one of the first race teams in the world to secure the latest-generation Alfa TCR vehicles which are due to arrive in Australia ahead of the Sydney Motorsport season opener from May 17-19.
Drivers are yet to be confirmed although it is understood the squad's former Supercars driver Garth Tander was offered a potential drive as part of a shock move to replace him with Richie Stanaway for the 2019 season.
The cars will complement its two-car Holden Commodore Supercars and Super2 teams and its involvement as technical partner to the new S5000 single seater series. 
"We have been looking with interest in the TCR Series from afar, at both the local and international competition, and we have been really impressed," said Barry Rogers, who attended the TCR Australia launch in November last year.
"We are in the motorsport business, and we will consider anything where we feel there is value for our business and the sport as a whole, and there's no doubt that TCR competition is a cost-effective way to compete, which is why we have decided to secure two Alfa Romeos for the 2019 season in Australia.
"Obviously, GRM is heavily invested in Supercars and that remains our primary focus, however, like our involvement in S5000, we have seen a new market and we are very keen to be involved.
"Myself and our head engineer Richard Hollway went to Europe to visit a number of TCR manufacturers, and we were particularly impressed with the Romeo Ferraris team.
"The way they are in business is very similar to us – family run business, strong ties with car makers and we were impressed by their enthusiasm.
"We've formed a collaboration where we will help group the Alfa Romeo brand in the Asia Pacific region, and having the brand-new Giulietta Veloce at our disposal is perfect timing too. We'll have the latest-spec car that will be competitive and unique."
It is not the first time GRM has been associated with the Alfa Romeo brand having entered an Alfa Romeo 155 in the 1995 Australian Super Touring Championship for Steven Richards in the team's first season in the touring car racing.
Alfa Romeo is set to join Hyundai, Honda, Audi and Volkswagen on the TCR Australia grid with series boss Matt Braid revealing that more announcements are on the way.
"Alfa Romeo is a prestigious, global brand, with a great racing heritage and it's fantastic to welcome them into the inaugural TCR Australia Series," said Braid. 
"It's really pleasing to add another great manufacturer to the TCR Australia grid with Alfa Romeo joining Audi, Volkswagen, Hyundai and Honda who are already represented.
"Having a team of the calibre of Garry Rogers Motorsport is a great endorsement for the category. GRM is one of the best motorsport operations in Australia and I know they will put together a formidable TCR program.
"Momentum for the category is in full swing now and we are looking forward to a raft of exciting announcements in the coming weeks."
TCR Australia will contest a seven round series on the Shannons Nationals bill.