Winterbottom: Triple Eight factory visit 'a bit surreal'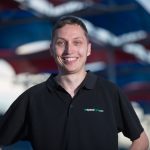 Mark Winterbottom has admitted it was a surreal experience to visit the Triple Eight factory as he and Team 18 explore the new partnership with the multiple championship winning outfit.
The 2015 Supercars champion spent a day at the factory Holden team's workshop in Brisbane last week as part of the handover process of an ex-Jamie Whincup Triple Eight built ZB Commodore he will race with technical support from the outfit this year.
Winterbottom, a long time Ford hero, conducted his first laps in a Holden Supercar during a 10 lap shakedown at Queensland Raceway, overseen by Triple Eight staff, following his workshop visit.
Having been an arch-rival to Triple Eight for the majority of his Supercars career, he described the opportunity to see the inner sanctum of the team's base as 'a bit surreal'.
While he only spent a day at the facility, Winterbottom was impressed by the operation and the support Triple Eight have already displayed through the technical relationship with his new team.
"It was a bit surreal. You go and look and they've got trophies everywhere and you're looking at the ones you've affected or not affected. It's an impressive set-up," Winterbottom told Speedcafe.com.
"But end of the day you walk in there and it's impressive but ultimately you just have one vision – you walk in and look straight at your car and make sure it's your car, it's not going to live there, it's going to live with us so you don't get fan-gazed in all the facility. 
"I looked at my car and made sure that's my priority but it's an impressive set-up. 
"You know why they're competitive. (Team owner) Roland (Dane) is across everything. 
"The guys, it's pretty impressive to see how they operate. You know why they succeed.
"It was good. No secrets, no nothing. There's two cars there to look at if you want. 
"It was really good and that's kind of what you're told but until you see it you've got to (simply) believe it which was really impressive."
The technical partnership will see Irwin Racing continue to operate as its own entity but will now share information with Triple Eight, a prospect Winterbottom and the team is eagerly anticipating.
"I race for Charlie (Schwerkolt) and Team 18 and that's obviously the priority but if they (Triple Eight) can give you no secrets and straight up what it is, then we can give back as well," he added.
"We're a customer as such to them but hopefully we're a quick customer, like Tekno Autosports was when Shane van Gisbergen was there. He beat them at times. 
"The more cars you have, the more data, the better it is. 
"I feel like they are interested to see your feedback because there's things every team does well so it's good. It works really well (there is a) good relationship and it's only the start which is good."
Likewise, Triple Eight, which will also operate a technical alliance with Matt Stone Racing this year, is also keen to have access to Winterbottom's data to help its Jamie Whincup and Shane van Gisbergen entries. 
"Oh most definitely (the technical alliance is a benefit), for sure and we're keen to see some of Frosty's data, just like he's obviously keen to be running some T8 equipment and be sharing data," Triple Eight team manager Mark Dutton told Speedcafe.com. 
"So that's pretty exciting as well."
Irwin Racing is set to officially unveil its Holden Commodore on February 7.