Hazard warning system set for Bathurst 12H trial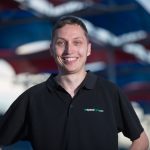 An in-car warning system designed to alert drivers of upcoming hazards will be used for the first time in Australia at next week's Liqui-Moly Bathurst 12 Hour, Speedcafe.com can reveal.
The 41 car field at the Mount Panorama GT classic will be fitted with a Motec warning light device that aims to help prevent a repeat of a frightening crash that saw last year's race red flagged and hospitalised two drivers.
Ash Walsh and John Martin were lucky to avoid serious injuries when the former's stricken Audi R8 was struck at high speed on the run from Sulman Park to McPhillamy Park by an unsighted Martin, driving a Mercedes-AMG GT3.
The incident triggered calls to improve safety at a section of the circuit that has been witness to several high profile incidents over the years, including the death of Mark Porter in 2006.
A CAMS investigation has resulted that all cars will be fitted with a warning light on the dash of each car which is linked to race control and works in conjunction with the car's Motec data loggers and telemetry.
If a danger is spotted race control can activate the system which will trigger the warning light inside the car to warn the driver of any impending hazards ahead.
This will be used in addition to the traditional flag marshals. 
"After last year's event, obviously, there was a number of incidents that highlighted the potential risks across the top of the mountain in some areas," Bathurst 12 Hour event director Kurt Sakzewski told Speedcafe.com.  
"Obviously, it's challenging in what is very much a semi-permanent facility, so it is mostly a public road and obviously, the elevation changes at Mount Panorama are quite unique to a racetrack in Australia. 
"But working with the team at Motec, we've established that their race management intel warning light system will be able to be implemented to the 2019 Liqui-Moly Bathurst 12 Hour.
"It will work in combination with the Balance of Performance (BoP) loggers and the telemetry setup that we've already got placed in the cars.
"Basically, there's communications between the flag points and race control, and then race control themselves will set up a direct link to the system as well, so it complements the existing flag marshals.
"It doesn't override anything that's already in place. But basically, it's an additional communication device which will allow a light on the dash of the car to flash up to warn drivers when they're coming up to a sector which has a change in conditions."
It is understood Supercars will monitor the system's performance at Bathurst as is assesses the prospect of introducing the device to its cars in the future.
The Bathurst 12 Hour begins on January 31.