Lessons learned for Hazelwood after tough rookie year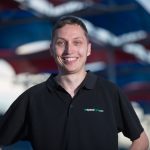 Todd Hazelwood believes plenty of lessons have been learned from a tough rookie Supercars season that at times left him burned out.
The 2017 Dunlop Super2 Series winner endured a difficult maiden campaign that left him propping up the championship standings.
One of five rookies this year, Hazelwood and his Matt Stone Racing struggled to extract consistent speed out of its Ford Falcon FGX which prompted a mid-year switch to a VF Commodore. 
Hazelwood's best result arrived in the final round of the year in Newcastle when he scored a 13th in the penultimate race of the season.  
Reflecting on an eventful first Supercars Championship season, the 23-year-old felt he took on too many roles within the team which affected his driving. 
"It is good to finally have a holistic view of what we have done this season and looking back it has certainly a tough year for the team and I, but we came into the year not expecting to set the world of fire as well," Hazelwood told Speedcafe.com.
"There have been a lot of lessons learned and it is certainly shaping up to be a big off season for our team and for myself to come back bigger and better in 2019.
"I think the biggest thing for me this year was that I took on too many roles within the team.  
"We are a small team and (I was) trying to do the sponsorship and be a race car driver and be part of the team where I could and there were not enough hours in the day. 
"The last couple of months I have been working with (team owner) Matt Stone closely and our management team to work out what is the best way for me to move forward and get the most out of myself. 
"We were on the back foot at the start of the year as there was so much going on and we didn't have a huge off season.
"We hoped to hit the ground running a lot better than what we did and that amplified as the year went on, and it got to six months in and I felt burnt out."
Hazelwood is eagerly awaiting the 2019 season which will see him race an ex-Jamie Whincup Holden ZB Commodore and receive technical support from Triple Eight.
Earlier this month he jumped behind the wheel of the car at Queensland Raceway as MSR completed its final test day of the season that it used to prepare for 2019.  
"It has been a big year but fortunately for our rookie season it was good to get a lot of reality checks and that will help us move forward," he added.
"We have got a lot to be excited about for next year. We can't wait to see what we can achieve in 2019." 
Hazelwood will kick off his 2019 season with a run in the Liqui-Moly Bathurst 12 Hour when he drives the Aussie Driver Search Audi R8 GT3.