Canto on enduro market after losing Tickford seat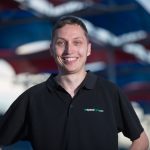 Dean Canto has declared himself on the enduro driver market after revealing that he has lost his seat at Tickford Racing for next year.
The former Supercars full-timer has held a co-driver berth at the Ford squad since 2008 but is now looking for a new team to continue his enduro career.
Canto has partnered Mark Winterbottom in the #5 Bottle-O Racing entry since 2016 but the latter's decision to join Team 18 and Lee Holdsworth's move to Tickford has forced a co-driver shake-up at Campbellfield.
Prior to teaming up with Winterbottom he partnered Luke Youlden, Paul Dumbrell and David Reynolds at the Ford squad.
A decision to hand back a Racing Entitlements Contract (REC) has also reduced the amount of Pirtek Enduro Cup seats for next year.
It also appears the prospect of continuing his partnership with Winterbottom at Team 18 is not an option for Canto which has left the 38-year-old facing a season on the sidelines.
Speedcafe.com understands Tickford's Super2 rising star Thomas Randle is in the frame for an enduro seat at the squad.
"I was on the side of needing to renew my deal but unfortunately the way things have panned out there means there is no spot for me which is sad," Canto told Speedcafe.com.
"It has been good working with them and I wish them all the best on that side of things.
"It would have been good to get back with Lee again; we drove together years ago (in 2006 and 2007 at Garry Rogers Motorsport) and we are a good fit and it would have been good not to have a seat insert for once.
"It is tough to swallow at the moment; I certainly wasn't ready to be at the point where I am potentially not going to be doing another Bathurst.
"I have already exercised that option (at Team 18) and spoken to Charlie (Schwerkolt) and from what he has told me they have already got someone else.
"Mark (Winterbottom) was hinting that he wanted me to go with him but last week Charlie said that their sponsor wants someone else so there is nothing there."
With 20 Bathurst 1000 starts under his belt, Canto believes he still has plenty to offer teams.
"I feel like I have got a lot to give and when it comes to strategy and things like that I have always been in the background and helping engineers that might not have done as many Bathursts or enduros as I have," he added.
"I'm not ready to say 'no more'. I'm not going to give up but it is very tight now and a couple of RECs have been handed up. I don't know what other options are out there.
"It is never all over. We saw Brighty (Jason Bright) wasn't doing anything until late in the piece.
"At this stage it is just a case of trying to work things out."
While his enduro plans remain up in the air, Canto is locked in to contest the Liqui-Moly Bathurst 12 Hour with Trofeo Motorsport, where he will drive a Lamborghini Huracan GT3.