Smith takes out eventful BNT V8 opener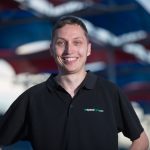 Australian Jack Smith has claimed victory in a drama-filled race that kicked off the second round of New Zealand's BNT V8s Championship at Pukekohe.
The Super2 driver started from pole position but fell to third behind Nick Ross and Brenton Grove in the early stages.
An entertaining tussle developed between the trio before Grove's pressure took its toll on Ross and the former found his way into the lead on lap four.
The move offered Smith an opportunity to slot into second resulting in contact between him and Ross.
However, drama struck the leader moments later when an electrical issue on his Richards Team Motorsport Toyota Camry forced him into retirement.
This handed the Ross (Nissan Altima) the lead with Smith in hot pursuit.
An under pressure Ross then misjudged his exit at the hairpin and spun, gifting Smith the lead which held until the chequered flag.
Lance Hughes followed Smith home in second while Rob Wallace completed the podium.
"There was a fair bit going on in that race. I got a really good jump off the start, and then Nick got by me at turn three and caught me napping to be honest," said Smith.
"The contact with Nick, I'm not really sure what happened.
"The car seemed to struggle with a bit of top end speed in that race, but other than that the car felt really nice. It's always nice to get a win, and especially a one-two for the team with Lance Hughes following me home to the line."
Ross eventually came home in eighth following his spin.
Class two was won by Justin Ashwell, who led home the only other class two competitor this weekend, Matt Podjursky.
"Probably didn't get the best start, but it was a great way to bounce back from a 'testing' round one here at Pukekohe last month," said Ashwell.
"We had two broken axles and a broken diff head, so to come back here, get pole position in the class and a win is really great.
"The start of the race was bit of a shocker, but there was a tangle at turn three, and then another one at turn four, and we managed to scrape through that unscathed and into the lead."
The BNT V8s will contest two more 16-lap races tomorrow.