Aussie Driver Search plots TCR Australia team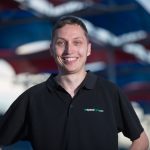 The team behind the talent spotting scheme Aussie Driver Search has revealed its intentions to field a multi-car effort in TCR Australia next year.
Team owner and founder of the national competition Kyle Austin is speaking with various car makers and race car builders about purchasing up to five TCR-specification vehicles for the new seven round two-litre touring car series.
Four drives are expected to be available with one seat already allocated to inaugural SuperUtes champion Ryal Harris.
The plan would see ADS purchase its own cars to lease to prospective drivers, or accept entrants into their squad if they purchase a car aligned with their car maker.
ADS has revealed its pricing structure for next year with the cost to lease a car listed at $60,000.
The outfit will offer a full arrive and drive package for $252,500 per season.
"We are ready to lock in drivers and get our TCR Australia team underway," said Austin.
"We are in discussions with a number of local manufacturers as well as international TCR car builders to source the best-possible deal for our team and drivers.
"Not many teams will publicly publish the costs of going motor racing, but we like to do things a little different.
"We like to be up front, honest and deliver the best possible product for our drivers through our professionally run team and top-level engineers/mechanics.
"The TCR category is really appealing to our team as it fills a hole in the market for a low cost premier series.
"The cars are extremely user-friendly, exciting to drive and great for driver development. We are really excited to announce further news on this."
SuperUtes driver Harris, who also works as a judge for ADS, is eagerly awaiting the prospect of racing in TCR Australia.
"When TCR confirmed it was coming to Australia, it was something that got my attention straight away," said Harris.
"I'm committed to the SuperUtes Series next year, but Aussie Driver Search will back me to enter TCR Australia, assuming that the ADS team can get the right deals in place.
"Kyle is very committed to getting some cars out for TCR Australia, and when he says he is doing something, it happens so I can't wait to see how it unfolds."
Interest in TCR Australia is continuing to grow ahead of its inaugural season.
Hyundai squad HMO Customer Racing is expected to field three i30s while Melbourne Performance Centre has already secured an Audi RS3 and Volkswagen Golf which are set to be raced next year.
Meanwhile, Wall Racing currently has a JAS Motorsport built Honda Civic at its workshop.
TCR Australia will host its maiden round at Sydney Motorsport Park from May 17-19.