Alliance will benefit both Tickford and 23Red Racing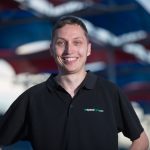 23Red Racing's move to team up with Tickford Racing next year will benefit both organisations in progressing up the grid, according to Phil Munday. 
Munday's single car operation has elected to leave its Kilsyth base to run out of Tickford's Campbellfield workshop as a customer.
The move arrives after only a season operating as its own entity having been borne out of Lucas Dumbrell Motorsport and coincides with Tickford's decision to hand back a Racing Entitlements Contract.
Milwaukee Racing has forged ties with Tickford this season through a technical alliance but next year will see the two teams work much more closely together. 
Munday sees the move as the smartest way to progress his team up the grid which at times outperformed Tickford with their own machinery in the hands of Will Davison.   
Tickford has endured one of its most challenging years scoring only four podiums, including a win across its four cars.
Having often emerged as a top 10 contender this year, the Milwaukee Racing boss believes the arrangement will prove equally as beneficial to Tickford as both squads look develop the new Ford Mustang.   
"I don't see it (the move to Tickford) as a failure, I see it as a real positive, to actually going into that space to be able to push that next level into where we need to go," said Munday. 
"I definitely think, and I've said this to Rod and to Tim, I think that we bring as much to the table there as they give to us as well. 
"Will's (Davison) a very experienced driver, really cracking guy, lot of experience; I think I bring a bit of business acumen and stuff that I've learned and done through the years; so I think it's a really good – I won't call it a marriage – joining of the businesses to be able to get that next level that we need to get."
A quirk of the arrangement between Tickford and Milwaukee Racing sees Davison return to Campbellfield where he raced with the Ford squad from 2011-2013.
Munday says Davison is excited to received extra support from his former employers next year.  
"He is really excited to go back to get the support, because none of us are as good as all of us put together in something," Munday added.
"I look at these three drivers there are going to be four in their stable, obviously – that they can sit in the transporter and talk about the issues that they've had in that day, in that practice session, in the qualifying, in the race, which you just don't get here. 
"I don't think Will's ever sat with them at a race meeting this whole year, so he is really super excited just to get the collective of everyone's brainpower in our business now, to take us to that next level."
While Milwaukee Racing will move its car to Tickford's base, the team's Kilsyth workshop will remain operational with its sole focus on manufacturing Mustang composite parts.
Munday revealed earlier this week that he plans to convert his spare Falcon into a Mustang which could be used as a wildcard entry next year.