Jet Ski ace Masterton set for Supercars test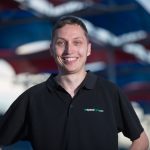 James Masterton, the son of prominent Australian Touring Car Championship privateer Steve Masterton, is due to test a Supercar next week.
Masterton will team up with Matt Stone Racing at Queensland Raceway to drive a Super2 specification Falcon FGX alongside British racing driver Abbie Eaton on December 11.
James has forged a career in Jet Ski racing having won national and world titles in the discipline before recently announcing his retirement from watercraft racing.
Masterton harbours an ambition to race at Bathurst following in the footsteps of his father Steve, who piloted Group C Falcons and Group A Commodores during the 1980s, before going on to race a Ford Sierra there in the early 1990s.
"To say I'm excited for the test next week is an understatement," said Masterton.
"I don't want to get too carried away or blow things out of proportion but let's just see what happens.
"I would love to drive a V8 powered sedan at Bathurst at least once in my lifetime to experience the buzz my father felt many moons ago."
Team owner Matt Stone is keen to help Masterton on his foray into motorsport.
"James displays all the traits that made his dad Steve a great driver in his era," said Stone.
"We look forward to helping guide James to success in his motorsport journey."
Matt Stone Racing is also set to field a ZB Commodore raced by Jamie Whincup this season for its main game driver Todd Hazelwood at the test.