23Red Racing to build Mustang wildcard car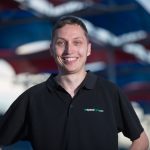 23Red Racing has confirmed plans to convert its Super2 Falcon into a Mustang which could be fielded as a wildcard in the future.
The squad will already convert its main game Falcon into a Mustang as part of a fleet of six to tackle the Supercars Championship next year.
News of the plan has emerged amid confirmation that the team's Will Davison entry will move from its Kilsyth workshop to be run out of Tickford Racing's Campbellfield outfit as a customer.
Phil Munday's operation had purchased two Tickford built Falcons ahead of the 2018 campaign having initially contemplated the prospect of entering one into Super2.
Upon abandoning his Super2 ambition, the car could have a future as a wildcard entry in the main game.
"I've got a Super 2, (which) I'm going to convert to a Mustang as well, and up-spec it to current spec Mustang, and that car will be used as our show car, or a wildcard if I desire to use it for a wildcard," said Munday.
Should the conversion be completed there will be seven Mustangs ready for competition including two from Shell V-Power Racing and four from Tickford/23Red Racing.
The process is likely to be helped by the fact 23Red Racing has turned its Kilsyth workshop into a manufacturing plant for Mustang composite panels
"The composites business has grown exponentially since the Mustang so we'll do 70, 75 percent of all the Mustang parts, and well underway doing that now, so Kilsyth will keep the composite part of it," Munday added.
"I have a bar, I've got a very good corporate environment for our sponsors and we've used it for functions. 
"The actual race shop, which is a showroom, I'll lease that out because our car will go into Campbellfield and run from Campbellfield."
Munday has also confirmed that his team will no longer field an entry in the Porsche Michelin GT3 Cup Challenge, which it had been doing for rising star Luis Leeds.