Schwerkolt: New look Team 18 set for bright future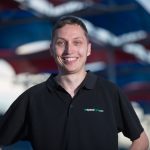 Team 18 is set for a 'great couple of years' having secured a technical tie-up with Triple Eight and the signing of champion driver Mark Winterbottom, according to owner Charlie Schwerkolt. 
The single car Holden squad is expected to undergo a series of significant changes next season which have already started to emerge following confirmation that 2015 series champion Winterbottom will replace Lee Holdsworth.
Winterbottom's move from Tickford Racing has been facilitated by Team 18's decision to forge a close technical relationship with Triple Eight, which will see its ZB Commodore upgraded.
Next year will also see the team welcome new title sponsors in Irwin Tools alongside personnel changes with experienced engineer Phil Keed expected to join the outfit.
The changes arrive after a difficult campaign highlighted by struggles for speed, consistency and reliability that resulted in a 14th place finish in the teams standings.
Having admitted that his team has made some bad decisions in the past, Schwerkolt is confident his squad is set for a bright future.
"We're changing everything," Schwerkolt told Speedcafe.com.
"It's just the way it's gone down (in the past), (there has been) some bad luck and some bad decisions, you know on my behalf.
"(We're going) back to a Triple Eight deal, I don't want to say too much here, but it's go ahead on sharing all sorts of stuff, so it's going to be a great next couple of years, which is pretty exciting.
"It's very exciting, obviously I've got great respect for Lee Holdsworth and also I've had great support from Preston Hire for the last three years with Lee. 
"But an opportunity has come up and we've grabbed it with everything we can, and getting Mark (Winterbottom) onboard is really big."
Since emerging as a standalone operation in 2016, the team has attempted to lead its development path on its own which has proved a tough task.
Meanwhile, other single car operations, namely Tekno Autosports, have secured technical partnerships with bigger operations to ease the workload in developing race cars.
Next season rivals Matt Stone Racing and 23Red Racing will operate under alliances with Triple Eight and Tickford Racing respectively.  
Schwerkolt admits that it is imperative for smaller outfits to secure technical partners to be successful in Supercars.
"Look, what's that saying if you can't beat them, join them," he added.
"We need to join them (Triple Eight) so we can get all their resources, we're really a small team and we need all those resources in the future to be a successful team."
Team 18 will continue to operate out of its Melbourne workshop although further changes to its make up for 2019 are due to be announced in the coming weeks.