Lowndes to drive Le Mans Porsche 962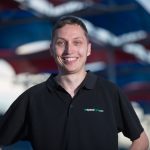 Supercars legend Craig Lowndes is set to rekindle his Le Mans 24 Hours memories by piloting a stunning Brun Motorsport Porsche 962 at the Adelaide Motorsport Festival.
The fan favourite has been offered a drive around the Victoria Park Sprint Circuit by the sportscar's Kiwi owner Andy Higgins.
Lowndes is among a group of famous names attending the festival where he is also listed to drive the impressive $2 million road going Ferrari La Ferrari. 
However, the reigning Supercheap Bathurst Auto Bathurst 1000 winner couldn't turn down an opportunity to drive an example of the three-time Le Mans 24 Hours winning Porsche 962 sportscar.
The car is an ex-Brun Motorsport chassis campaigned in the 1989 Le Mans 24 Hours and World Sportscar Championship and one of two 962s at the Adelaide event, which is marking 70 years of Porsche.  
The drive will offer Lowndes a chance to experience vintage Le Mans machinery before a possible entry into next year's French classic. 
"The owner has offered to let me run it on Sunday, and it would be amazing to drive it," Lowndes told Speedcafe.com.
"It was a car that I grew up watching. This is its third event since coming out of a museum, and it is great to see these cars running around which is what they were built for. 
"It will be good to see what it used to be like and obviously the cars have evolved and a lot of things have changed. 
"It will be a nice lead in to hopefully what could be a (possible Le Mans race next year).  
"You do remember those cars running around down the Mulsanne straight at over 300km/h.
"Seeing them on television is one thing but seeing them live and up close, and seeing how they are built is special."
After a hectic season that saw Lowndes call time on his full-time Supercars career, the driver is enjoying a chance to sample some iconic race cars.      
"It doesn't matter what manufacturer you drive for to see so many historic cars is sensational," he added.
"I see this (the Adelaide Motorsport Festival) as the mini Goodwood."
Lowndes is expected to the drive the Porsche 962 on Sunday and may share the vehicle with legendary Australian Sportscar racer Vern Schuppan, who raced a 962 in period at Le Mans from 1985-1989. 
Action at the Adelaide Motorsport Festival is underway today with a host of cars and bike completing timed laps.