Lap record battle heats up in Adelaide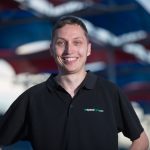 Ivan Capelli has come within touching distance of reclaiming the Victoria Park Sprint Circuit lap record on the first day of competition at the Adelaide Motorsport Festival.
The former Ferrari Formula 1 driver lapped the 1.4km track in 43.08s which was only 0.05s shy of the record set by Supercars race winner Tim Slade in a 1994 Foootwork FA15 Formula 1 car last year.
Capelli is determined to take the back the lap record honour in his 1989 Leyton House F1 car having set a benchmark in 2016.   
The afternoon session was curtailed early, meaning the Italian will have to wait nearly 24 hours before having another crack at reclaiming the benchmark.
Cooler conditions expected for Sunday will play into his favour with Sunday's weather predicted to be perfect for lap record-setting performances.
Vintage F1 cars were among the highlights with the record holding car of last year, second fastest, in the hands of former Super2 driver Josh Kean.
Meanwhile, the all new S5000 sngle seater wowed crowds with Tim Macrow setting the third fastest time of the day, stopping the clocks at 44.63s.
Macrow will return tomorrow for another crack at the lap record.  
The S5000 was not the only new car that impressed as David Brabham piloted the stunning BT62 trackday hypercar in its public debut in Australia.
Brabham only trailed the two F1 cars and the S5000 after posting a 44.97s effort.
The lap record battle is set to heat up tomorrow.
A collection of classic Australian touring cars from Group C, Group A, and the V8 era also cut laps.
The event is marking 70 years of Porsche with an array of special machinery from the marque, including two stunning Porsche 962 sportscars that competed at the Le Mans 24 Hours in the late 1980s early 1990s.  
Craig Lowndes also took to the track behind the wheel of a $2 million Ferrari La Ferrari supercar. 
The Adelaide Motorsport Festival concludes tomorrow.