'Tremendous respect' between McLaughlin and SVG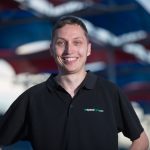 Scott McLaughlin says there is a tremendous amount of respect between himself and rival Shane van Gisbergen despite a fractious championship battle at times this year.
The Shell V-Power Racing driver ultimately came out on top to claim a maiden Supercars crown at the Coates Hire Newcastle 500 following an intense battle that went down to the final race of the year.
McLaughlin and Van Gisbergen have been locked in a fascinating head-to-head battle for much of the season, which appeared to boil over at Pukekohe, highlighted by flashpoint that included in race contact, followed by the infamous parc ferme 'park in' incident.    
While the racing has been hard, McLaughlin says there is nothing but respect between himself and his rival. 
"I think every battle is the same, but when you get to this stage of the year with me and Shane, especially when we go to New Zealand, two Kiwis that want to win in front of their home crowd, one doesn't and has the shits and then Shane does and then 'parks you in' it causes a massive controversy, but it's certainly an intense battle," said McLaughlin. 
"But there's people (who) can say what they want, but there's a tremendous amount of respect between myself and Shane," said McLaughlin. 
"I think it's more on track; we battle hard and fair and get on with it.
"Obviously one or two times we will have a hissy fit, one of us, but it's I think… the battle with him to the end this year was amazing and I think we're 500 points clear of third, so it just shows how consistent we were.
"I tip my hat to a lot of (the Triple Eight) guys for pushing me to the end and pushing our team to the end."
The level of respect between the drivers was on show in the aftermath of McLaughlin's title victory on the Newcastle streets last Sunday.
Although disappointed to miss out on the title, van Gisbergen ventured into the Shell V-Power Racing garage to congratulate the entire team and took time out to speak with boss Roger Penske. 
"They (DJR Team Penske) have been awesome competitors the last two years, and it's good for them to win it – they just made less mistakes and we were as fast as them this year, but they got the job done, so congrats to their team," said van Gisbergen when reflecting on the result."
The respect among rival teams was again visible when Triple Eight's Jamie Whincup revealed his thoughts on McLaughlin winning the title, having gone toe-to-toe with the Kiwi to win the 2017 title.  
"It's been one of the toughest years we've competed in," said Whincup.
"It's the biggest prize in Australian motorsport and I think Scotty deserves his name on it.
"Him and his whole crew did a fantastic job, absolutely a deserved winner this year.
"To win the championship, it's the best over the whole year, so let's forget about all of the ins and outs, those guys are well and truly deserving winners and we couldn't be any more congratulatory to them."