Former F1 driver eyes Adelaide record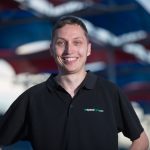 Ex-Formula 1 driver Ivan Capelli is among growing list of competitors taking aim at the Victoria Park Sprint Circuit lap record at this weekend's Adelaide Motorsport Festival.
The Italian, who raced for Tyrell, AGS, March, Leyton House, Ferrari and Jordan, during the 1980s and early 90s has returned to the Adelaide event this year.
Capelli is a former Victoria Park Sprint Circuit lap record holder having held the benchmark (43.20s) until Supercars race winner Tim Slade posted a 43.02s effort at last year's event driving a Footwork Arrows FA-15 Formula One 1994 car. 
Two years on from his lap record, Capelli is determined to fight back having been reunited with the 1989 Leyton House in which he achieved the feat in 2016.
It is the same car he drove during the 1989 season which included the Australian Grand Prix held on the Adelaide streets.
The Victoria Park Sprint Circuit uses the iconic Adelaide 500 and Grand Prix layout in the parklands, before turning right up Wakefield Street following the Senna Chicane for a short and busy lap.
"I'm going to try obviously, I don't know the limit that there is now, I will check it with my guys," said Capelli.
"I must say after two years it's even tighter regarding the cockpit, because I weigh a few more kilos, compared with two years ago. 
"But yeah we will do it, well we are going to try actually.
"I think the quality of the cars is improving every year and this should be the most important thing for the people that are coming here to watch the festival.
"The cars are really attractive, very nice and there are some cars that made the history of Formula 1 or other categories, it's a really nice place."
Capelli is not the only contender expected to threaten the sub 43 second barrier with a host of cars and drivers having arrived in Adelaide.
The all new S5000 single seater is among those capable of breaking the lap record with Tim Macrow set to pilot the new Onroak-Ligier chassis.
Set to make its race debut next year, the car, which made is public debut at the Coates Hire Newcastle 500 last weekend, has been dubbed as Australia's answer to IndyCar.
"The reaction to the car at Newcastle, from teams and fans alike, was has fantastic," said S5000 category manager Chris Lambden.
"So now we complete the 'Launch Tour' at the Adelaide Motorsport Festival, so South Australia rev-heads can see what is coming in 2019."
Likewise, Le Mans 24 Hours winner David Brabham is another driver set to be in the lap record mix as he pilots his stunning Brabham BT62 trackday car.
Meanwhile, the Footwork, which holds the lap record, will be driven by former Super2 driver Josh Kean, who is capable of posting fast times. 
Supercars drivers Slade and Craig Lowndes are set to drive an array of special vehicles over the weekend.
They will be joined by rally star Alister McRae who will drive a former works Subaru WRC car.
The Adelaide Motorsport Festival will burst into life this evening when a parade of race cars heads into the Adelaide CBD.
Official on track action will begin tomorrow.  
TOP 10 FASTEST TIMES – VICTORIA PARK SPRINT
1.    Tim Slade – 2017 (Footwork Arrows FA15) 43.03s
2.    Ivan Capelli – 2016 (Leyton House March) 43.20s
3.    Cameron Waters – 2017 (Footwork Arrows FA15) 43.96
4.    Andy Higgins – 2016 (Leyton House March) 44.35
5.    John Bowe – 2014 (March 741) 44.47
6.    Trent Shirvington – 2017 (Mygale M11 Formula 3) 45.02
7.    Stefan Johannson – 2016 (Ferrari F156) 45.05
8.    Josh Kean – 2017 (Benneton B186) 45.20
9.    Robert Broek – 2016 (Ferrari 412T) 45.33
10. Brenton Ramsey – 2017 (Reynard 94D Formula Holden) 45.73