Triple Eight to place #888 on 'full-time holiday'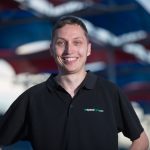 Triple Eight will park the #888 for a period with the iconic number only returning for the entry featuring Craig Lowndes in the Pirtek Enduro Cup next year.
Team owner Roland Dane has confirmed that Jamie Whincup will revert from #1 to #88 while Shane van Gisbergen will continue to run #97 during the regular season, but is adamant the team number #888 won't be retired.
The #888 has been associated with Lowndes since he joined the Triple Eight squad in 2005, with the number previously run by Brazilian Max Wilson a year earlier during the squad's maiden full season. 
Lowndes' fan favourite status has seen the driver become synonymous with the #888, which has scored six Supercheap Auto Bathurst 1000 crowns, including this year's edition, which was his last as a full-time Supercars pilot.
Prior to Triple Eight's emergence in Australia, the #888 was used by Prancing Horse Racing in 2001 and John Bowe at Brad Jones Racing from 2002 to 2003.
Meanwhile, in 2009, when Whincup ran #1, his number was put aside for the enduros as he and Lowndes ran under #888, with Allan Simonsen and James Thompson using #88.
Dane says the number will have a 'full-time holiday for a while' but hopes to reintroduce it for another driver most likely once seven-time champion Whincup retires.
"My plan with that number is either Shane or Jamie will run it at Bathurst and the enduros next year with Craig and at some point, and probably as and when Jamie retires, we might introduce it on a full-time basis again depending on who ends up driving for us," Dane told Speedcafe.com.
"The number won't disappear forever but it will certainly have a full-time holiday for a little while.
"I think just putting a little bit of distance in between it having been run for him (Lowndes), and when it is eventually run for someone else, is nice. 
"You can't retire numbers all the time otherwise you would end up with no numbers.     
"It is our number and it coincided with Craig coming on board. It is have been great to have it linked with him."
It is yet to be confirmed which Triple Eight entry will carry the #888 for next year's Pirtek Enduro Cup with Lowndes unsure if he will partner Whincup or van Gisbergen.