Stanaway: 'Massive changes' required to stay interested at Tickford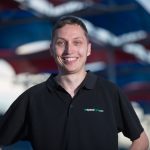 Richie Stanaway says Tickford Racing would need to undergo 'massive changes' to keep him interested in continuing in the seat next year as he prepares to discuss his future with the team.
The New Zealander is contracted to the Ford squad for 2019 although there is some uncertainty surrounding the driver's full-time plans at the operation. 
Stanaway has endured a horror rookie season plagued by struggles for speed and consistency, which has culminated in a 25th place finish in the championship standings.
The 27-year-old is committed to Supercars and expects to continue in the seat next year, although it is understood the Kiwi has a performance clause in his contract.
He admits his future is far from certain revealing that an 'overhaul' is required, should he continue, having been disappointed with the package the team has delivered this year.
"As far as I'm aware (I have a seat for next year), obviously I guess after the (Newcastle) weekend we'll be having some important discussions," Stanaway told Speedcafe.com.
"I haven't had any indication that we wouldn't continue as planned with the two-year contract. 
"I think some massive changes need to be made with the people I've got around me if I was to do another year anyway, because if I'm given the same opportunity I was given this year then I wouldn't be interested.
"It's not even close to what I need to be competitive. 
"The team need to pick up their game in order for me to be interested anyway. 
"I'd love to do another year but the team needs a massive overhaul with everything surrounding running me. 
"They obviously haven't given me what I've needed and I think I'm capable of being successful, but I've got to be given the crew and the tools around me to do it as well."
Should Stanaway lose his seat, he has revealed that reverting to a co-driver role is not among his considerations and feels another shot in the main game is deserved.      
"I wouldn't be interested in co-driving. I came here for a reason," Stanaway added.
"I think I need to be given a fair job racing full time. Co-driving doesn't interest me. It's not enough for me to be engaged. I need to try and make this work or I'll have to figure out something else.
"This is the only championship that interests me. That's my first preference. I haven't even though about anything else."
The former sportscar and single seater ace says he hasn't looked at other opportunities within the category.
"I haven't looked but I've got a few ideas in mind," he said.
Tickford Racing is expected to confirm its 2019 plans in the coming weeks.