Supercars leaving no stone unturned with Hawk-Eye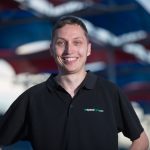 Supercars is leaving no stone unturned in ensuring potentially championship defining decisions are made quickly and correctly with the use of Hawk-Eye technology this weekend.
For only the third time this season the series is using the state-of-the-art software which offers officials a plethora of data at a split second to analyse incidents during the race.   
Famous for its use in tennis, cricket and more recently football through VAR, Hawk-Eye has been brought in for this weekend's Coates Hire Newcastle 500, which will see officials under immense scrutiny with a title on the line.
The system's advantage stems around the speed it can call up footage from a session for officials analyse. 
Prior to the use of Hawk-Eye, the race director would only have access to the broadcast footage and have to ask the outside broadcast truck for the Fox Sports vision to be sent to Race Control at a convenient moment.
Now there is a Hawk-Eye computer and controller based in Race Control that can find the incident footage and call up several camera angles using all television cameras and even onboard camera footage.     
This advancement in technology means that the race director can work completely independently with all the vision at their finger tips.
Ultimately it means a decision can be made more accurately and quickly, reducing the amount of post-race investigations.
Deputy Race Director Michael Masi is adamant that had this technology been in place at Pukekohe the Shane van Gisbergen wheel spinning incident would have been resolved in the race.
With every decision under a spotlight this weekend, he says the technology is a huge help. 
"It (this procedure) saves a huge amount of time. I would say that nine times out of 10 we can deal with a matter in race because it is very rare that the cameras don't pick something up," Masi told Speedcafe.com.
"But as always unless it's completely clear from all the footage that we have if there is or there isn't a breach, that is the determining factor.
"If we still need to, which we have done in Darwin when we ran the first trial, we can still grab judicial camera footage.  
"It's a huge help. The fact that we can effectively have as many camera angles that exists of an incident is priceless from our end. It assists you in making better decisions."  
How it works   
The Hawk-Eye software captures all vision from every camera at its disposal with 36 cameras in use this weekend.
The vision is stored on capture computers at the circuit and archived with time codes to specific incidents, which are bookmarked by the operator upon request from the race director.
An operator is situated in Race Control equipped with three computer screens with the system mirrored in the Race Director's office at the circuit for judicial reviews.
When an event is bookmarked it captures all the vision available from the cameras at that point on the circuit.  
The system has a track map with all the corners labelled that can then be clicked on by the operator, which brings up multiple camera angles of that area of the track.
"SMART Replay software enables us to capture every camera angle and sychronise them, ready to be recalled on demand," Hawk-Eye Operations Manager George Baines told Speedcafe.com.
"For the stewards, it enables them to review incidents during the race, by providing access to every camera angle, separate to the broadcast vision.
"We are also able to synchronise the in-car judicial cameras with all other camera angles post-race, leaving no stone unturned to review incidents.
"Now the stewards have access to not just the broadcast vision, but also all other camera angles, meaning we can go back and review possible race incidents that were not even on the broadcast vision."
The technology has already been put to use with a three-place grid penalty swiftly issued to Cameron Waters during qualifying for today's race.
Supercars boss Sean Seamer told Speedcafe.com that the system could be used at all Supercars events next season.