Lowndes: Supercars needs personalities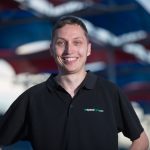 Craig Lowndes says it is important drivers step up and allow their personalities to shine through as the fan favourite prepares to retire from full-time Supercars racing.
Lowndes has held the people's champion mantle for virtually his entire touring car career and will bow out at the Coates Hire Newcastle 500 as the series' most popular driver.
The 44-year-old has built up a reputation as one of the most likeable personalities in the sport largely garnered through his ever smiling presence and rapport with the fans.   
Reverting to a co-driver role next year, the fan favourite tag will be up for grabs next season and Lowndes believes there are drivers who can fill his shoes.
"I think there's a number of drivers and it really just comes down to whether they want to step up," Lowndes told Speedcafe.com. 
"(I'm) good friends with Chaz (Mostert), he's got great ability. He's a personality. 
"That's what we need, personalities.
"Davey Reynolds, again he's coming out of his shell, hopefully not too much, but he comes out of his shell. 
"But then you've got some other great young guys. 
"Todd Hazelwood, he's a young battler and doing well and good luck to him. 
"Jack Le Brocq, you've got all these guys that are coming through and they just need to find their own place and their own personality. 
"(It's the) same as when everyone kept saying I'm the next (Peter) Brock. 
"I'm not a Brock. I've got a lot of Brock in me in the sense the way I conduct myself, the way I handle myself, but that's just a byproduct of spending time with someone. 
"It's like when you're married, you become your partner so for me I'm hoping that we do keep those personalities. 
"The Mark Skaifes, the Russell Ingalls, the Greg Murphys. Those guys. You still need the personalities coming through."
Focussing back to his final full-time weekend, Lowndes will hit the track today behind the wheel of a new look Holden Commodore.
Triple Eight surprised its long serving driver with a chrome gold livery which harks back to the Betta Electrical livery he ran when he first joined the team in 2005.
"I am (blown away by the livery)," he added.
"Obviously the gold stands out but I think if you look at the detail of the car there's a lot of '06 in it, the Betta Electrical days in the way the yellow striping is.
"For me it's really special to think back to those times with the team and what we've achieved over the years. But the gold definitely makes it stand out on track."
The car will hit the track in today's opening practice at 1140 AEDT.